After being appointed as the Project Executing Agency (PEA) for Coimbatore's Metro system in July 2017, Chennai Metro Rail Ltd. today published a notice inviting proposals from consulting and technical services firms for the preparation of a feasibility study followed by a detailed project report (DPR). Both these services will be funded by the German government through the KfW development bank.
Invitation for Expression of Interest
CMRL invites Project Qualification proposals from reputed Consultancy firms regarding preparation of Feasibility study cum Detailed Project Report for Coimbatore Mass Transit System. Interested consultancy firms / organisations may forward their proposal as per guidelines in the PQ document published on our website to the undersigned, within four weeks from date of issue of this advertisement.

Project Objective
The objective of the study is to identify the potential corridors for Mass Transit operations and finalize the one most feasible and appropriate option for which detailed project report needs to be prepared. The feasibility study cum Detailed Project Report is designed to be open to different options of Mass Rapid Transport (MRT) Systems for Coimbatore. Including implementation plan, detailed system specifications, block cost, economic and financial viability analysis for the most suitable option for Coimbatore. The outcome of the assignment is an Alternative Analysis Report and a Detailed Project Report (DPR) for the Project.
– link to notice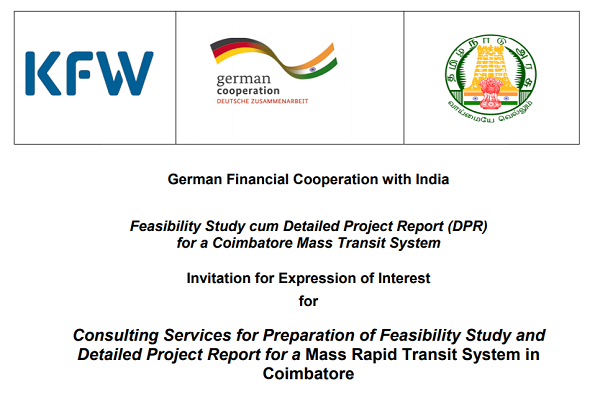 Once assigned, the chosen firm will have to complete the assignment in two stages –
• Stage 1 – Feasibility Stage (Assessment and selection of an integrated Mass Rapid Transit system solution for Coimbatore)
• Stage 2 – Detailed Project Report (Verify the alignment options and suggest the suitable alignment with respect to local condition and primary survey data; Detailed planning for proposed MRT corridors, stations, depot, land acquisition, operation plan, etc.; Detailed planning for various system components; Assess environmental and social issues; Prepare a detailed plan for multi-modal integration; Legal and institutional arrangements, Estimate costs)
For a more detailed scope, see the document linked above. The last date for submitting interest is January 6, 2018 at 3 pm.
As mentioned earlier, the city's municipal corporation in October 2015 submitted a 'City-wide Concept Plan for Coimbatore' to the Government of India's Smart Cities Challenge and that gives an idea of some of the routes on which a metro system could possibly be explored and developed –
Line-1: Kaniyur to Ukkadam Bus Stand (along Avinashi Road) – 26 km
Line-2: Bilichi to Ukkadam Bus Stand (along Mettupalayam Road) – 24 km
Line-3: Karanampettai to Thannerpanthal (along Trichy Road and Thadagam Road) – 42 km
Line-4: Ganeshapuram to Karunyanagar (along Sathyamangalam Road and Perur Road) – 44 km
All four have been mapped out below –
For more updates, check out the Coimbatore section of The Metro Rail Guy!
– TMRG