This is a deviation from my posts on metro construction, but right up my alley.
In December 2019, tunnel boring machine (TBM) manufacturer China Railway Construction Heavy Industry Co., Ltd. (CRCHI) completed factory acceptance tests (FAT) on India's largest ever TBM at their Changsha factory in the presence of Larsen & Toubro & AECOM officials.
This Ø12.19m slurry machine will be deployed by Larsen & Toubro on the 3.93 km package 4 of the 29.2 km Coastal Road (Western Freeway) project, parts of which are operational (Bandra – Worli) and under construction. Its cost is estimated at Rs 126 cr and is expected to arrive at the city's port in February 2020.
Scope of work includes building entry/exit ramps near Princess Street Flyover on Marine Drive and construction of 12m wide twin (3 + 3 lane) tunnels under Girgaum Chowpatty (25m deep) & Malabar Hill (75m deep) between Marine Drive and Priyadarshini Park to connect up with Package 1 which is also being built by L&T.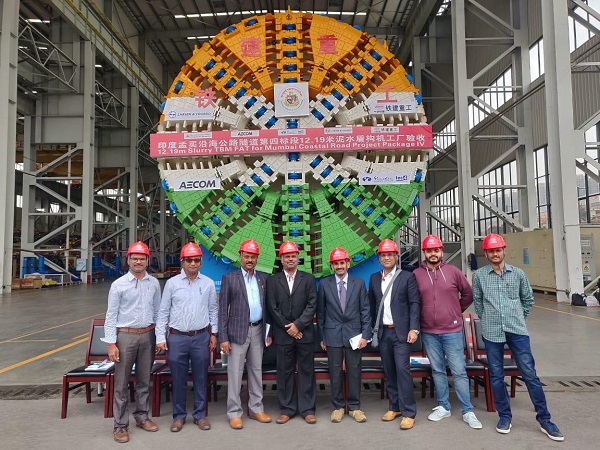 Time-lapse Video:
The project is currently under litigation – the Indian Express has more on it.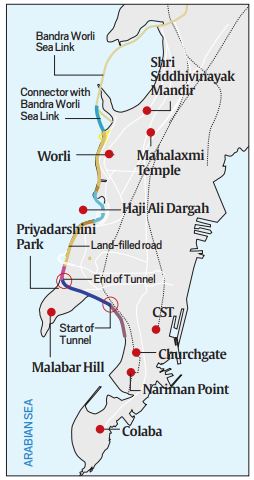 When deployed, this will be the largest TBM to be used in India. The diameter of TBMs deployed for metro tunnels have so far ranged between 6.45m to 6.68m, while four TBMs with a diameter of 10m have previously been deployed for water tunnels across two projects (first, second) in Andhra Pradesh and one project in Madhya Pradesh.
If the bullet train project between Ahmedabad – Mumbai gets through political hurdles – then we'll see see 3 x Ø 14.5 m TBMs deployed to build the Mumbai city portion of the line – see more on that here.
For more updates, check out my Home Page!
– TMRG