On January 31, the European Investment Bank (EIB) formalized a €600m (Rs. 4,668 crore) loan agreement with Maharashtra Metro Rail Corporation (Maha Metro) in the presence of Maharashtra's Chief Minister for the development of Pune Metro's 31.254 km Phase 1 project consisting of 2 lines.
Per the fact sheet on EIB's website, the loan was originally approved and signed by EIB's Board of Directors on July 21, 2019. Per a MahaMetro official, the loan has tenure of 20 years with a 4 year moratorium and 16-year repayment period. The interest rate is floating and directly linked to Euribor.
During the loan signing ceremony, EIB also announced the release of the first tranche of €200m (Rs. 1556 crores) which will be utilized for funding the procurement of rolling stock (102 cars from Titagarh Firema) and the construction of the 5.09 km underground section of Line-1, where tunneling is well underway, between Range Hills Ramp and Swargate along with the Range Hills Depot.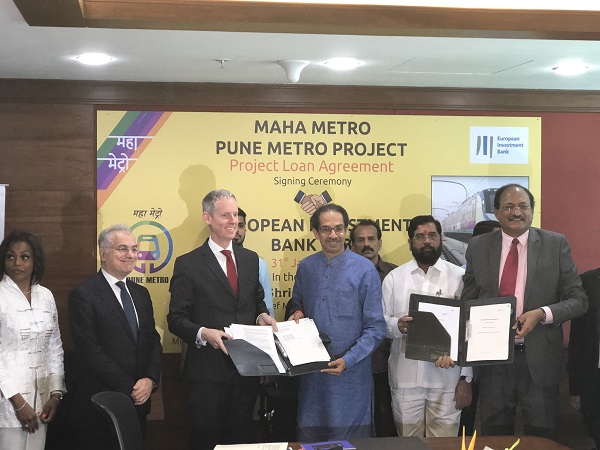 Prior to this, EIB signed loan agreements with Lucknow Metro for €450 mn and Bangalore Metro for €500 mn, and is currently in talks to provide a €400 mn loan for Bhopal Metro.
In January 2019, France's Agence française de développement (AfD) signed a €245 mn (approx Rs. 1000 cr) loan agreement with MahaMetro for funding the procurement of the project's other systems such as train control and signalling system (from Alstom), overhead catenary systems, power supply, telecom and automated fare collection (AFC) gates etc.
For more updates, check out the Pune section of The Metro Rail Guy!
– TMRG