The National Capital Region Transport Corporation (NCRTC) has invited bids for the construction of an elevated viaduct from Sarai Kale Khan to New Ashok Nagar's Down-Ramp, an entry ramp leading to the Jangpura Stabling Yard and two elevated stations at Sarai Kale Khan and New Ashok Nagar on the 82.15 km Delhi–Meerut line of the Regional Rapid Transit System.
The notice's official publishing date was February 21, but it became available online only on February 25.
Package 6: DM/CN/COR-OF/095: Construction of elevated viaduct from Sarai Kale Khan station to New Ashok Nagar DN Ramp including Jangpura Entry ramp and two Nos. of elevated stations viz., Sarai Kale Khan & New Ashok Nagar [including Preengineered steel roof structure but excluding Architectural Finishing of Stations] of Delhi – Meerut Regional Rapid Transit System (RRTS) Corridor
• Completion Period: 910 days
• Pre-bid Meeting: 06-Mar-2020 11:00 AM
• Date & Time of Submission: 07-Apr-2020 11:00 AM
• Date & Time of Opening Technical Bids: 14-Apr-2020 05:00 PM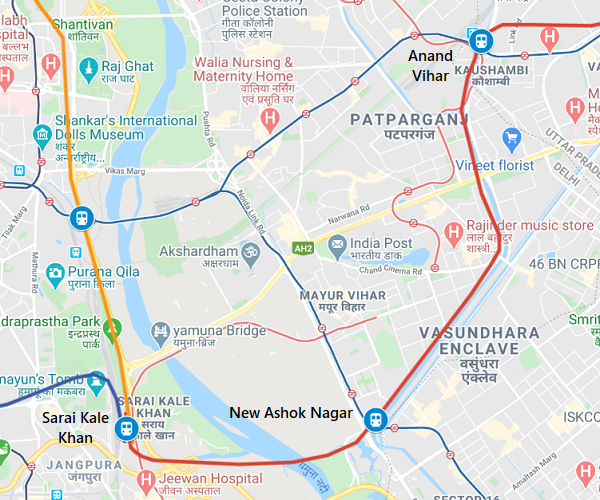 This is the 4th civil package of the line for which bids have been invited, and the closest one to the core of the city. The line's construction is being financed through an official development assistance (ODA) loan from the Asian Development Bank (ADB) – and this notice also features on their website. Last week, Continental Piling & Excavation Pvt Ltd. was awarded this section's initial pile load testing contract.
With this development, notices inviting civil construction are now pending for about 20 km of the line connecting Shatabdi Nagar – Brahmapuri – Meerut Central – Bhaisali – Begumpul – MES Colony – Daurli – Meerut North – Modipuram.
For more updates, check out the NCR RRTS section of The Metro Rail Guy!
– TMRG