Update: The original post included details with Schedule-A values only in which Egis was the lowest bidder. Information on Schedule-B is now available, and I've updated the post accordingly with a total of both values. My apologies for that.
A week after AECOM emerged as the lowest technically qualified bidder for Patna Metro Line-2's Detailed Design Consultant (DDC) service, there's now confirmation that AECOM is also the lowest bidder for the 14.89 km Line-1's contract.
Bids for Line-1's DDC contract were invited in October 2019, and financial bids were opened on February 17 to reveal AECOM had beat 4 other engineering design contender firms.
Contract PCDD-01: Engagement of Detail Design Consultant (DDC) for Civil, Architectural and Building Services including E and M works for Danapur to Mithapur (UG and Elevated) Corridor-I of Phase-I of Patna MRTS project
Here are the financial bid values (Schedule A+B) submitted by all the bidders. DMRC's estimate was Rs. 29.30 crores.
| | |
| --- | --- |
| Firm | Bid |
| AECOM Singapore – AECOM India | Rs. 16.870 Cr |
| Egis Rail – Egis India – Intercontinental | Rs. 17.550 Cr |
| Ayesa – Fountainhead | Rs. 18.649 Cr |
| ENIA – Amberg – STUP | Rs. 21.97 Cr |
| SYSTRA MVA | Rs. 23.77 Cr |
S.p.A – SMEC (India) – SMEC International Pty Ltd. was found to be technically non-compliant.
Patna's Line-1 in its revised new form will connect Danapur with Mithapur through a series of 11.01 km long underground tunnels with 7 stations, an elevated viaduct 3.62 km long with 3 stations, and also a small at-grade section with a length of 0.260 km with 1 station. Here's a general alignment of the line displayed in red –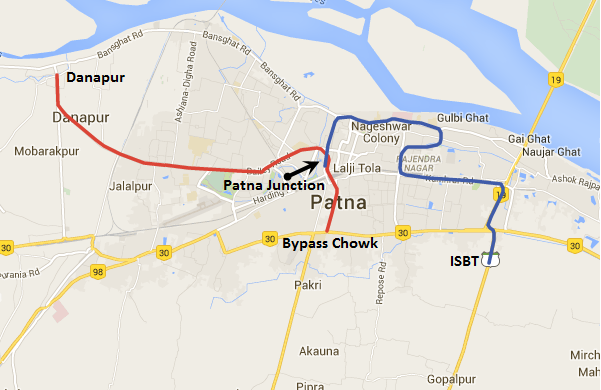 DMRC is providing General Consultancy services to execute Patna Metro's 32.54 km Phase 1 project, and Consulting Engineers Group (CEG) is on track to complete soil testing by mid-March 2020.
If no issues arise, then AECOM will go on to be awarded, if not already, with the line's DDC contact in the coming weeks. Their role would include, but is not limited to, producing and proposing alternate designs of all civil, architectural, building services, electrical and mechanical works for the entire line.
Update: DMRC generated its LOA to AECOM on February 26, and it was officially received at 5 pm on February 28 –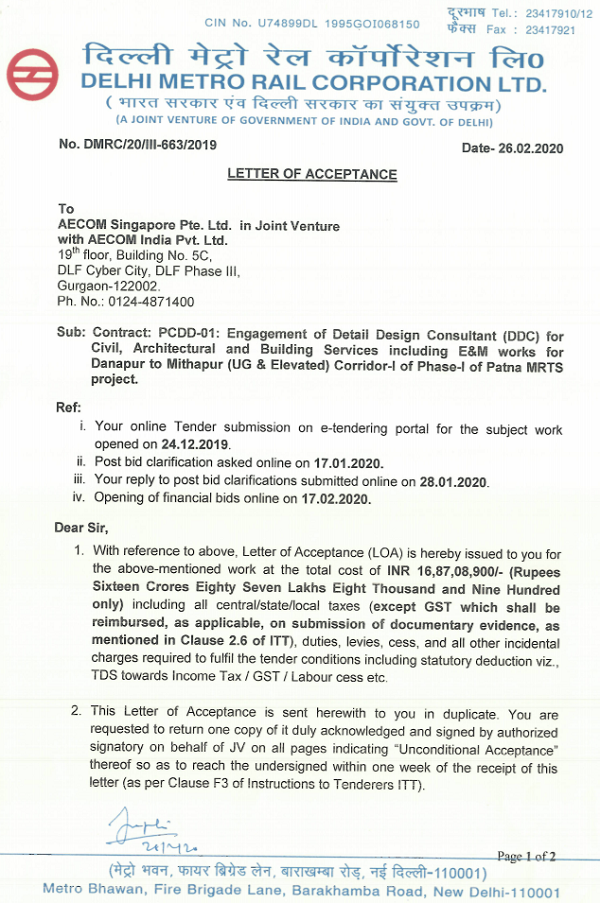 For more updates, check out the Patna section of The Metro Rail Guy!
– TMRG