The Delhi Metro Rail Corporation (DMRC) has invited tenders (bids) from civil construction firms to build the very first section of Patna Metro's 30.91 km Phase 1 project.
This 6.107 km elevated section of the 14.05 km east-west Line-2 will connect Malahi Pakri with New ISBT through 5 stations in south-east Patna. Among them, the Khemni Chak Station on NH-22 Bypass will serve as one of the two interchange stations for the system. The package's scope also includes the construction of a viaduct leading to the New ISBT Depot, as well as a small rake-interchange viaduct at Khemni Chak connecting to the 16.85 km Line-1.
The tender notice is not yet available online on DMRC's website. Here's the official brief scope of work and bid submission timeline shared by a follower.
Package PC-01: Part Design and Construction of Elevated Viaduct, Viaduct connection to Depot including elevated ramp for Depot, Stabling & Extension of Viaduct for Corridor-1 at Khemni Chak Station,Special Spans, Elevated Ramp at Malai Pakri and Five Elevated Stations viz. Malai Pakri, Khemni Chak (Interchange station), Bhoothnath, Zero Mile & New ISBT (Excluding Architectural Finishing works of stations & PEB works of stations) from Chainage 8020.000 mt. to 14127.726 mt. of Patna Railway station to New ISBT Corridor 2 of Phase-I of Patna MRTS.
• Approximate Cost: Rs. 514.924 Cr
• Completion Period: 30 months
• Pre-bid Meeting: March 18 at 1100 hrs
• Date & Time of Submission of Tenders: April 8 (900 hrs) – April 15 (1500 hrs)
• Bid Opening Date: 16 April at 1500 hrs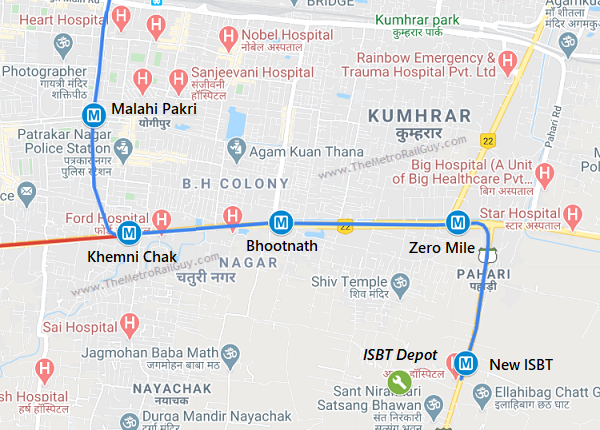 In 2019, the DMRC modified the Detailed Project Report (DPR) and routes of both lines, originally prepared by RITES, leading to the creation of a new interchange at Khemni Chak, addition of 2 new stations (total of 26 now), and elimination of Line-1's depot at Aitwarpur Village. Trains for both lines will now be stabled and maintained at the New ISBT Depot.
Patna Metro has seen a tremendous uptick in activity in the past month, with the appointment of AECOM as the Detailed Design Consultant (DDC) for both Line-1 and Line-2, and the emergence of SYSTRA as the lowest bidder as the DDC for the system's OHE traction system. If things go according to the package PC-01's bidding schedule, then a civil contractor can be expected to be appointed by June with full-fledged construction work beginning after the monsoons.
For more updates, check out the Patna section of The Metro Rail Guy!
– TMRG