Over the past few weeks, India's National High Speed Rail Corporation (NHSRCL) has published several notices inviting tenders (bids) for environment & social impact surveys, assessments, and utility identification along the proposed 865 km Delhi – Varanasi High-Speed Rail Line.
This move comes just a few weeks after they invited bids for preparing the final alignment design for 6 high-speed train lines, with an aim to prepare their individual detailed project reports (DPRs) as tasked by the Government of India in 2019.
Package NHSRCL/CO/CONTRACT/SIA-RAP/2020/06: Conducting Survey / Field Work & Preparation of Detailed Social Impact Assessment (SIA) / Resettlement Action Plan (RAP) For Proposed Delhi-Varanasi High Speed Rail Corridor (ABOUT 865 KMS. LENGTH).
• Date of Notice: 21-02-2020
• Last Date to Submit Bids: 13-03-2020 3:00:00 PM
Package NHSRCL/CO/ELECT/UTILITY/2020/05: Survey, Identification of Overhead, Over Ground, Underground Utilities and Identification of Power Sourcing Options for Substations Along the Proposed Delhi-Varanasi High Speed Rail Corridor (DVHSR)
• Date of Notice: 24-02-2020
• Last Date to Submit Bids: 18-03-2020 3:00:00 PM
Package NHSRCL/CO/CONTRACT/EIA/2020/07: Carrying out Environmental Impact Assessment Study / Field Work and Preparation of Environment Impact Assessment Report & Environment Management Plan For Proposed Delhi-Varanasi Section (ABOUT 865 KMS LONG)
• Date of Notice: 03-03-2020
• Last Date to Submit Bids 23-03-2020 3:00:00 PM
@ArjunM1412 on Twitter points out the tender documents (utility ID one) "reveals a surprise in the alignment – major city Kanpur is left out, while the much less populous Kannauj is included."
The tentative stations stated in the document include – Delhi, Noida, Jewar, Mathura, Agra, New Etawah, South Kannauj, Lucknow, Raibareli, Prayagraj (Allahabad), New Bhadoi, and Varanasi.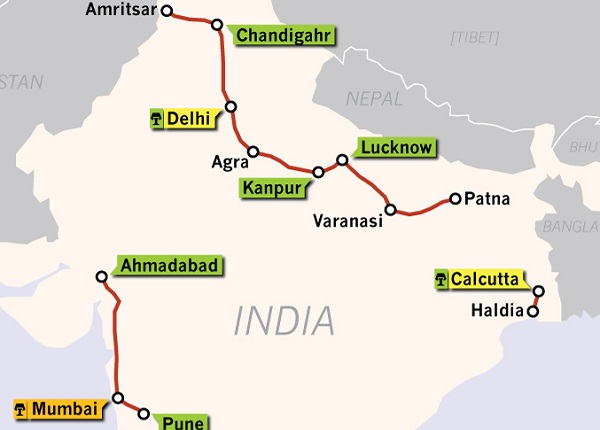 NHSRCL is currently developing the 508 km Mumbai Ahmedabad High Speed Rail Link (MAHSRL) project which will use Japanese-built Shinkansen bullet trains, but has run into land acquisition issues (only 47% of requisite land acquired by Jan-end) and an unsupportive new government in Maharashtra.
The publication of these new notices, specifically for the Delhi – Varanasi line out of 6 new lines, suggests the Central Government would like to expand HSR development efforts to regions where it receives unequivocal support from the local administration, something that Uttar Pradesh offers. The speed of development of big-ticket infrastructure projects (expressways, metros) over there has been phenomenal, so I wouldn't be surprised if Delhi – Varanasi turns out to be the next HSR line to be developed.
For more updates, check out the High Speed Rail section of The Metro Rail Guy!
– TMRG