Just a few moments ago, Tunnel Boring Machine S-1075 operated by the Continental Engineering Corp – ITD Cementation – Tata Projects JV made a breakthrough at Worli Station's northern-end on Mumbai Metro's 33.5 km Aqua Line (Line-3).
This was S-1075's second breakthrough, 6.08 km package UGC-04's sixth breakthough, and overall Line-3's 26th breakthrough.
This Herrenknecht TBM, nicknamed Krishna-3, successfully passed factory acceptance testing (FAT) in October 2017, and was first commissioned on July 19, 2018 to build the 1305 m up-line tunnel of the Siddhivinayak – Worli section. After its breakthrough in March 2019, it was brought back to Siddhivinayak for its final assignment to build the 1284m down-line tunnel towards Worli Station.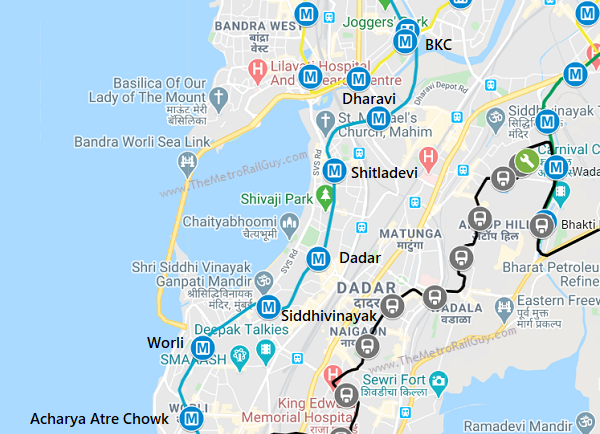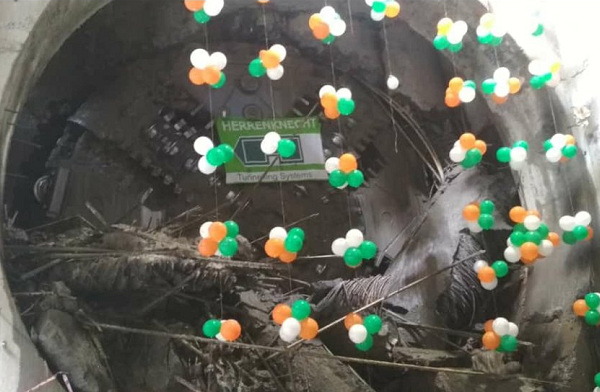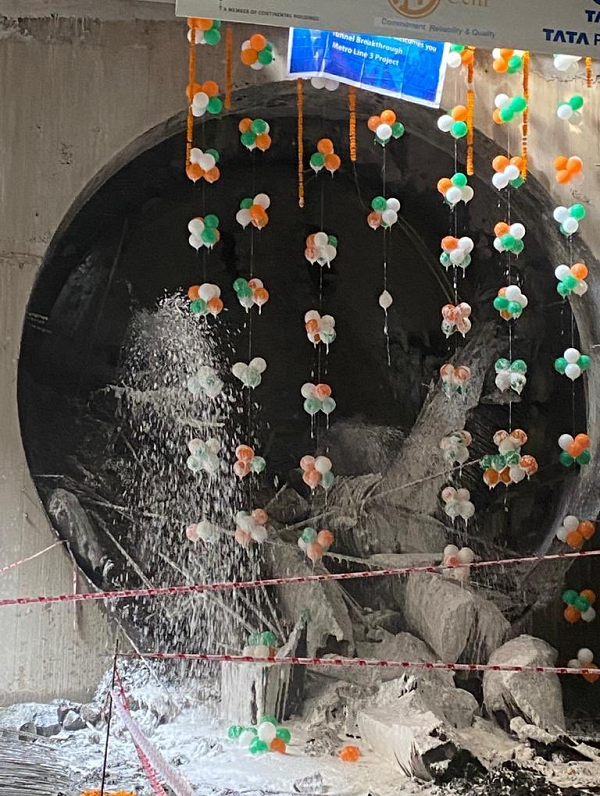 Package UGC-04 now has just 2 more breakthroughs pending, both at Dadar Station. Here's a table displaying its tunneling plan (best viewed on a desktop device) and the status of each tunnel –
TBM
Line
From
To
Distance
Status
1
Up
Nayanagar
Shaft
Dadar
2491m
Completed
April 1 '19
1
Up
Nayanagar
Shaft
Dharavi
589m
Completed
Nov 21 '19
1
Down
Siddhivinayak
Dadar
1126m
In Progress
2
Down
Nayanagar
Shaft
Dadar
2472m
Completed
Mar 1 '19
2
Down
Nayanagar
Shaft
Dharavi
589m
Completed
Oct 11 '19
2
Up
Siddhivinayak
Dadar
1106m
In Progress
3
Up
Siddhivinayak
Worli
1305m
Completed
Mar 15 '19
3
Down
Siddhivinayak
Worli
1284m
Completed
Today
Upcoming breakthroughs in March-April include:
• Package UGC-02: CST → Mumbai Central (up-line tunnel, 3825m)
• Package UGC-05: BKC → Dharavi (down-line tunnel, 1504 m)
For more updates, check out the Mumbai section of The Metro Rail Guy!
– TMRG