Rail Vikas Nigam Limited (RVNL) on April 24 invited bids for the civil construction and supply of machinery for Joka Depot on Kolkata Metro's 15.215 km Line-3 connecting Joka – Majerhat – Esplanade.
Construction on Kolkata's Line-3's southern elevated part has been underway since 2011 by Simplex Infrastructures for 2 packages (4.748 km Joka – Behala and 4.762 km Behala – Mominpur), but the 24.48 hectares land parcel required for the depot and its approach-line had been severely encroached by huts, temporary structures and commercial units.
Joka Depot will consist of 12 stabling lines with a provision to build an additional 11 lines in the future, 2 inspection bays (2 x 220m x 27m, 8 Nos lines), 2 lifting bays (220m x 20m), 2 workshop bays (220m x 25m), one bogie shop (22m x 17m), a turn-table and a 60m x 8m automatic coach washing plant.
Scope: Construction of PEB sheds, structures, buildings, P-way and utilities, general electrical works and supply, installation and commissioning of machinery and plant for setting up of Metro Car Depot at Joka in connection with Joka-Esplanade Metro Project in Kolkata, West Bengal, India.

• Estimated Cost: Rs 372.56 cores
• Period of Completion: 24 months
• Pre-bid Meeting: 20.05.2020 at 11.30 hrs
• Bid submission: 23.06.2020 11.00 hrs
• Bid Opening: 23.06.2020 at 11.30 hrs
The depot's architectural drawing in the tender documents isn't that clear, but here it is for whatever it's worth –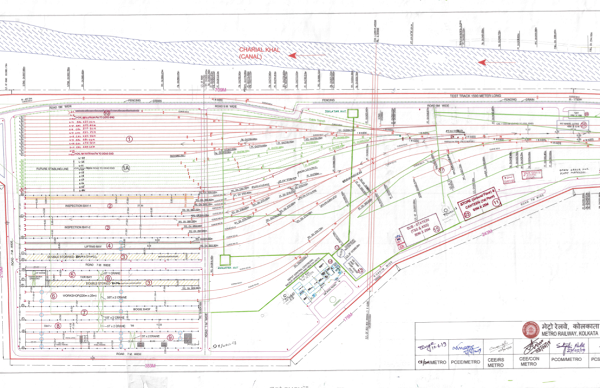 For more updates, check out the Kolkata section of The Metro Rail Guy!
– TMRG