After receiving no bids in response to its original notice, the Delhi Metro Rail Corporation (DMRC) on Thursday re-invited bids for topographical survey and utility identification works for the upcoming 19.15 km Kirti Nagar – Bamnoli Village (Dwarka ECC) Metrolite line in south-west Delhi.
The Detailed Project Report (DPR) for this light rail transit (LRT) line was approved by the DMRC's board in October 2019 with an estimate of Rs. 2,673 crore, and this mapping service is the very first pre-construction service for which bids had been invited, and now re-invited, for.
Contract: ML-01(R)
Scope: Topographical survey and utility identification works through GPR method for the proposed Metrolite Corridor from Kirti Nagar to Bamnoli village including Depot
Estimate: Rs. 65,73,954
Completion Period: 9 months
Sale of Tender Documents: 15.05.2020 to 15.06.2020 (upto 15:00 Hrs)
Pre-bid Meeting: 21.05.2020 at 1200 Hrs
Bid Submission End Date: 15.06.2020 (15:00 hrs)
Bid Opening Date: 16.06.2020 at 15:00Hrs
The scope of activities page lists the following activities to be performed:
Topographical survey with Total Station Instrument of Running Section and Station Areas.
Triangulation survey of Section (including fixing of control points)
Precise leveling of control points
Profile leveling
Final Location Survey
Boundary Wall marking
Tree identification with number
List of infringing/adjacent structures & utilities along with their identification number & owner details
Identification/Tracking of Utilities through Ground penetration radar (GPR) method on roads, foothpath, pavements, etc.
Identification of Utilities, their owing agency and their office addresses.
Making utility trench to confirm the utilites and survey of utilities found and their maaping on drawings.
Restoration works of the trench dug on roads, foothpath, pavements, etc.
This mostly at-grade metrolite line will consist of 21 stations at Kirti Nagar (elevated), Saraswati Garden, Mayapuri Bus Depot, Mayapuri, Hari Nagar, Mayapuri Industrial Area (MIA), Mayapuri Industrial Area 2 (MIA 2), Tihar Jail, Shivpuri (elevated), Dabri Village (elevated), Sitapuri (elavated), Mahavir Enclave (elevated), Dwarka Sector 2, Dwarka Sector 7, Dwarka Sector 6, Dwarka Court, Dwarka Sector 20, Dwarka Sector 23, Dhul Siras – Dwarka Sector 24, Dwarka Sector 25 – ECC Centre and Bamnoli Village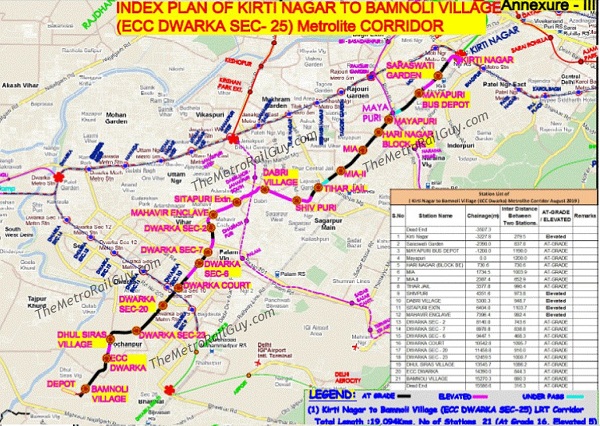 As seen above, the metrolite's civil structure will have 2 underpasses (short cut & cover tunnels displayed in aqua) at the Ring Road – Mayapuri Road and Mayapuri Road – Jail Road intersections.
Besides an approximately 4 km elevated viaduct (displayed in purple) between Tihar Jail and Dwarka Sector-2 stations, 5 small elevated viaducts will be built at or near Kirti Nagar, Mayapuri Bus Depot, Dwarka Sector-7, Dwarka Sector-8 and ECC Dwarka.
Bids for the design, supply and maintenance of 22 3-coach standard gauge Metrolite trains for up to 15 years were invited in early January 2020. Later in the month, the DMRC issued a corrigendum bumping up the number of train-sets to 29. Due to the disruption caused from the COVID-19 related lock-down, the last date to submit bids for it has been extended to June 24, 2020.
Metrolite trains on this line will run mostly at-grade (ground level) on dedicated / fenced-in corridors and act as an excellent feeder to the Delhi Metro system with interchanges planned at Kirti Nagar (Green Line), Mayapuri (Pink Line), Dabri Village (Magenta Line) and Dwarka Court (Blue Line).
More system & project information can be viewed on the Delhi Metrolite info page I created in March. Going forward, project news & construction updates will now be tracked through a new Delhi Metrolite category.
– TMRG