Titagarh Group on May 11 quietly unveiled an updated design rendering of the 31.254 km Pune Metro Phase 1 lines' 34 new train-sets through its social media channels.
To me, this design is an improvement over the design it shared in March to celebrate Holi when the front-cab (Driving Motor Car) included a small hump for a top-light. The angled, meaner headlights are a nice addition.
It is however somewhat of a downgrade from the all-glass front concept design it shared in August 2019 when Titagarh Firema SPA, a subsidiary of Titagarh Group, won Pune Metro's 102 coach contract valued at approximately Rs. 1125 crore. From August to March, the design became more realistic and gained a front emergency door with a pronounced operator door.
I've added text on the renders for additional clarity on chronology –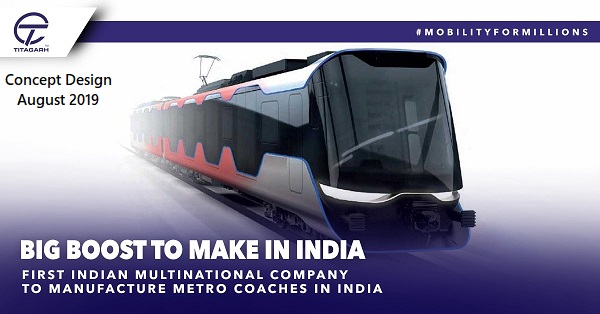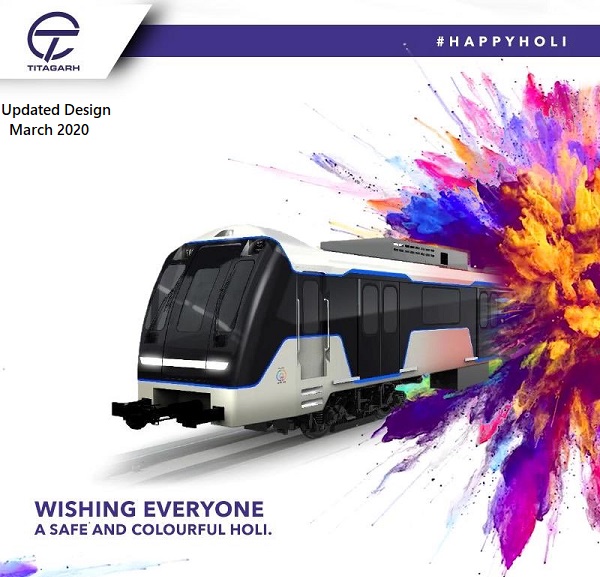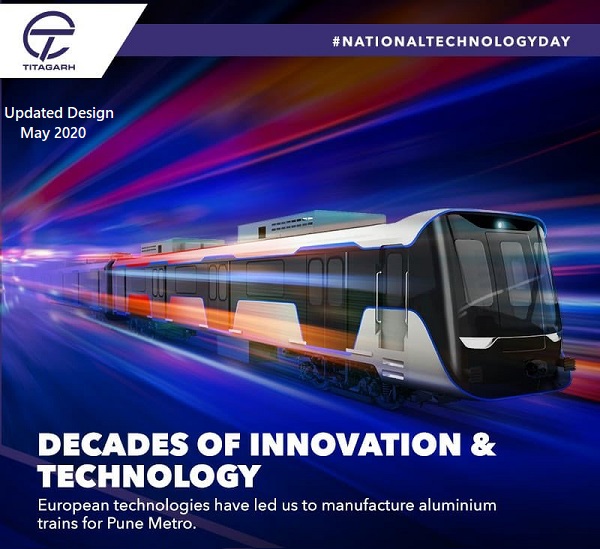 Pune Metro's 34 train-sets with three coaches each are supposed to be supplied within 160 weeks, with 75% of them getting manufactured locally in India under the government's 'Make in India' initiative. The rest 25%, which include the first few train-sets, are going to be produced in Italy but are running behind schedule.
Per a Titagarh Wagons official who spoke with the Financial Express, the inauguration of manufacturing for a prototype coach in Italy was planned on April 8 but had to be postponed as operations at the company's plant had stopped until March 31 due to COVID-19. Post-resumption, the company was reportedly facing an employee shortage and supply chain disruption.
Due to that delay, Pune Metro will now likely borrow more CRRC train-sets from Nagpur Metro, in addition to the 2 train-sets it already did, to start commercial operations on the under construction 10.795 km elevated Reach-1 (PCMC – Range Hills) section of the 16.589 km Line-1 (PCMC – Swargate).
According to details released by Maharashtra Metro Rail Corporation Limited (Maha-Metro) back in August 2019, Pune Metro's aluminium-body coaches from Titagarh will have the following features and passenger-friendly facilities:
Pune Metro's Aluminium-bodied coaches being lighter, are more energy-efficient and have better aesthetics. Hence, the manufacturing of these new generation coaches will be a huge infrastructural boost for the Pune Metro project.
Trains will consist of three coaches which will be subsequently converted into six coaches as per the traffic requirement.
Trains will be able to attain a maximum speed of 95 kmph and will have the capacity to accommodate as many as 925 passengers. The coaches will be equipped with a regenerative braking system.
Coaches will be fully air-conditioned with humidity control, and will be provided with digital route as well as station display, with interiors matching international standards.
Coaches will be equipped with CCTV cameras and will be monitored through regular operations.
Coaches will have an emergency or panic button to ensure the safety of passengers. The passengers will be able to speak to the train operator on board as well as to the emergency control at OCC (operation control center), if required.
Specially-abled passengers will also be able to seamlessly cover the distance at the stations and will be able to comfortably travel in the Pune Metro, with the help of special earmarked facilities for them, such as the inclusion of wheelchairs.
Coaches will be equipped with mobile and laptop charging facilities for passengers on board.
Coaches will be ergonomically as well as aerodynamically designed with its exteriors beautified with vibrant folk art reflecting the historical and cultural heritage of Pune, Pimpri and Chinchwad areas.
Pune Metro's trains will also be capable of operating in driverless mode, however, Pune Metro's operations will be with the train drivers or operators.
For more updates, check out the Pune section of The Metro Rail Guy!
– TMRG
Sign Up to Receive Instant Notifications