APCO-CRFG JV and KEC-CCECC JV – both assigned civil construction contractors of the 18 km 'priority corridor' section of the 82.15 km Delhi–Meerut Regional Rapid Transit System (RRTS) line have resumed full-fledged construction work, after being suspended for more than a month due to the nationwide COVID-19 related lockdown.
National Capital Region Transport Corporation (NCRTC) released the following nice video showing the resumption of work at the contractors' casting yards and multiple work sites, with precautions being taken by workers per the guidelines issued by the Ministry of Home Affairs.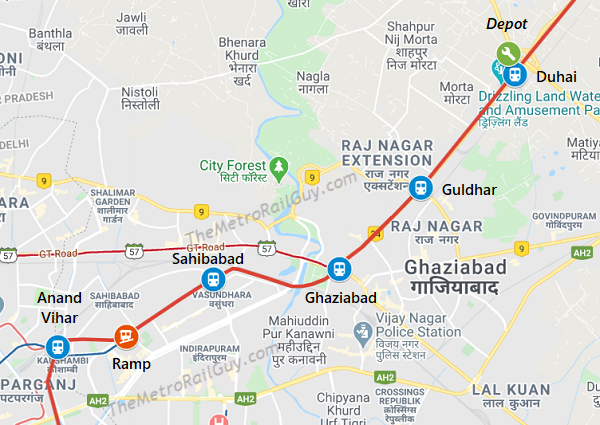 KEC–CCECC JV is responsible for Package 1 through a Rs. 579.76 crore contract awarded in August 2019. Their scope of work includes building a 7.3 km viaduct, from the Sahibabad Ramp (located east of Anand Vihar Station) to Ghaziabad Station, with two elevated stations at Sahibabad and Ghaziabad.
APCO Infra – CRFG JV is responsible for Package 2 through a Rs. 605.56 crore contract awarded in January 2019. Their scope of work includes building a 10.3 km viaduct from Ghaziabad Station to the Duhai Eastern Peripheral Expressway (EPE) crossing, with 2 elevated stations at Guldhar and Duhai.
Both contractors are chasing a 30 month deadline with an aim to operationalize the Sahibabad – Duhai section by March 2023. NCRTC doesn't publish monthly progress / status updates, so it's tough to provide a quantitative assessment on this section's progress so far.
For more updates, check out the NCR RRTS section of The Metro Rail Guy!
– TMRG