Gujarat Metro Rail Corporation Limited (GMRC) today kick-started the bidding process for Surat Metro Phase 1 project's civil construction which was approved for construction in March 2019 with an estimated cost of Rs. 12,020.32 crores.
The first tender notice for the 40.35 km Phase 1 project is for the 21.61 km Sarthana – Dream City Line-1's 11.6 km Kadarsha Ni Nal – Dream City elevated section which'll consist of 10 stations.
Tender Notification: GMRC/CONS/VDCT+STNS/PKG-CS1/PH-1/2020 (link)
Package: CS1
Scope: Construction of 11.6 KM Elevated Viaduct from Kadarsha Ni Nal to Dream City Dead End Including Ramp for Depot entry near Dream City and 10 Stations (Excl. E&M, Architectural Finishing and Roofing) for Surat Metro Rail Project Phase – 1, Package – CS1
Estimate: Rs. 805.356 Cr
Completion Period: 30 months
Sale of Tender Documents: 15-06-2020 (from 11:00 hrs) to 31-08-2020 (up to 12:00 hrs)
Pre-bid Meeting: 23-06-2020 at 11:30 hrs
Bid Submission End Date: 31-08-2020, 15:00 Hrs
Bid Opening Date: 31-08-2020, 15:30 Hrs
The 10 stations in this package will be built at Kadarsha Ni Nal, Majura Gate (interchange with Bhesan – Saroli Line-2), Rupali Canal, Althan Tenament, Althan Gam, VIP Road, Woman ITI, Bhimrad, Convention Center, Dream City.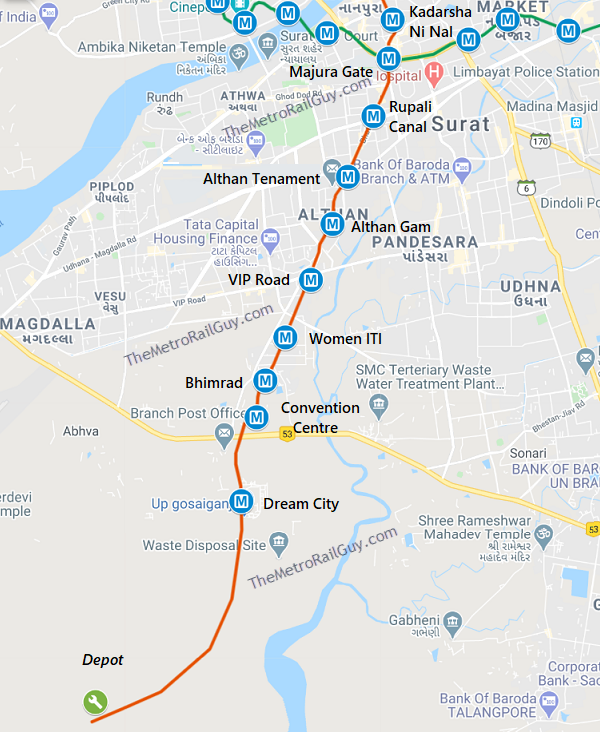 Last month, France's Agence Française de Développement (AFD) indicated it will be supporting Surat Metro through a €250 million  (approx. Rs. 2071 crore) loan. Following that, GMRC published an EOI notice for appointing the project's General Engineering Consultant (GEC). A month prior to that, GMRC invited bids for Line-1's Detailed Design Consultant (DDC), so things are now moving along quite nicely with full-fledged construction work expected to begin in Q1 2021.
For more updates, check out the Surat section of The Metro Rail Guy!
– TMRG