Noida Metro Rail Corporation on May 28 invited bids from civil construction firms for the construction of a 9.605 km extension of Noida Metro's Aqua Line from Noida Sector-51 to Greater Noida Sector-2.
This first section is a part of a 14.95 km extension of the 29.7 km Line-1 from Sector 51 to Knowledge Park V which was approved for construction by Uttar Pradesh government's cabinet on December 3, 2019. In January 2020, NMRC invited bids for appointing this section's detailed design consultant (DDC) and 3 firms had submitted bids – AYESA Ingenieria y Arquitectura S.A, LKT Engineering Consultants Ltd. and Rina Consulting S.p.A.
Tender Notification: NMRC/Civil/NGNC/123/2020 (link)
Package: NGNC-01
Scope: Part Design and Construction of Elevated Viaduct and 5 elevated stations viz NOIDA SEC -122, NOIDA SEC-123, GR. NOIDA SEC-4, ECOTECH-12, GR. NOIDA SEC-2, (excluding Architectural finishing Works and PEB works of stations) from Chainage 0.00 m to Chainage 9605 m of Noida -Greater Noida Metro Rail Project.
Estimate: Rs. 430.69 Cr
Completion Period: 20 months
Sale of Tender Documents: 28/05/2020 (from 0900 hrs) to 26/06/2020 (up to 1500 hrs)
Pre-bid Meeting: 10.06.2020 at 1100 hrs
Bid Submission End Date: 29.06.2020 (1500 hrs)
Bid Opening Date: 29.06.2020 at 15.30 hrs
The first phase of Line-1's eastern extension consists of 5 elevated stations at Noida Sector 122, Noida Sector 123, Greater Noida Sector 4, Ecotech 12 (Tech Zone) and Greater Noida Sector 2.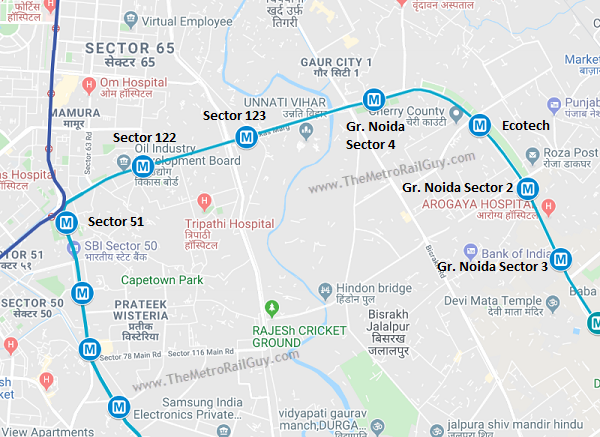 In the second phase, the line will be extended 5.8 km further south through 4 stations at Greater Noida Sector 3, Greater Noida Sector 10, Greater Noida Sector 12 and Knowledge Park 5. All of these stations have been mapped out here. In the coming months, two tender notices are expected to be published for appointing its DDC and civil construction contractor.
With the first construction tender notice out, full-fledged construction work is expected to begin in Q1 2021.
For more updates, check out the Noida – Greater Noida section of The Metro Rail Guy!
– TMRG