STUP Consultants Pvt. Ltd. and Sree Giri Consultants are the two structural engineering & design firms that have submitted bids to provide Proof Consultancy services to Kochi Metro Rail Ltd (KMRL) for the 2.95 km Kochi Metro Phase 1B project's 1.163 km SN Junction – Thripunithura section.
KMRL invited tenders for this contract on April 15 and technical bids were opened on June 1 to reveal the names of all bidders.
Contract: KMRL/PRJ/DndP/117/PC/TEN2/2020
Brief Scope: Contract Phase 1B – Selection of Proof Consultancy Services for the detailed structural design for the elevated viaduct and one elevated station from S.N. Junction to Thripunithura of Phase 1B of Kochi Metro Rail Project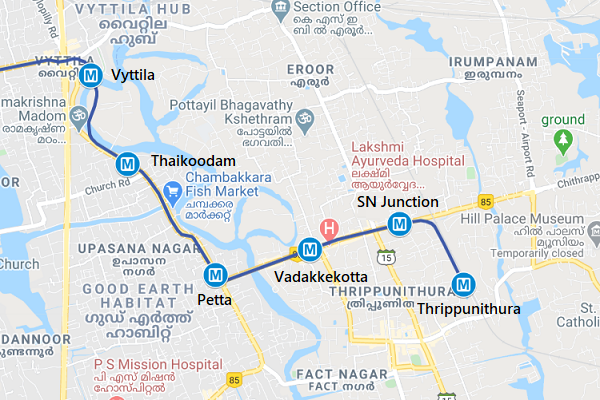 The 2 bids have now been sent for technical evaluation which can take a couple months to complete. When that is done, the financial bids of the technically qualified bidders will be opened to reveal who's the lowest bidder and most likely Proof Consultant for this section of Kochi Metro's Phase 1B project.
The execution Kochi Metro's Phase 1B from Petta to Tripunithura is being managed entirely by KMRL without the Delhi Metro Rail Corporation (DMRC)'s help. On May 29, technical bids were opened for its Project Management Consultancy contract to reveal a list of 4 bidders – Aarvee Associates, Feedback Infra, PADECO India and Rina Consulting.
Here's the current status of its sub-sections:
Petta – SN Junction (1.79 km) – Under construction by KEC International – China Civil Engineering Construction Corporation (KEC-CCECC) JV through a Rs. 265 crore contract it won in June 2019.

For more updates, check out the Kochi section of The Metro Rail Guy!
– TMRG