Earlier this week, ITD Cementation India Ltd. emerged as the lowest bidder for completing pending (balance) work at 7 stations between Titumir and Sub CBD-1 stations on Kolkata Metro's Line-6 which'll connect Kavi Subhash New Garia to Netaji Subhash Chandra Bose International Airport.
The contract for these 7 stations (Package ANS3) valued at roughly Rs. 300 crore was originally awarded to IL&FS Engineering in March 2014 with a 3 year deadline. Rail Vikas Nigam Ltd. terminated ILFS' contract in December 2018 due to tardy progress and encashed their bank guarantee of Rs. 43 crore.
In 2019, RVNL invited bids for completing pending works with an unconfirmed estimate of Rs. 239.32 crore.
| | |
| --- | --- |
| Firm | Bid |
| ITD Cementation India Ltd. | Rs. 292.63 crore |
| Afcons Infrastructure Ltd. | Rs. 305.31 crore |
| SP Singla Constructions Pvt. Ltd. | Rs. 434.56 crore |
Contract Number: RVNL/KOL/NewGaria- Airport/Metro/ANS3/1/2019
The 7 stations in this package are located at Titumir, Sub CBD-2, Convention Centre, New Town, Kalkhetra, CBD-1 and Sub-CBD-1: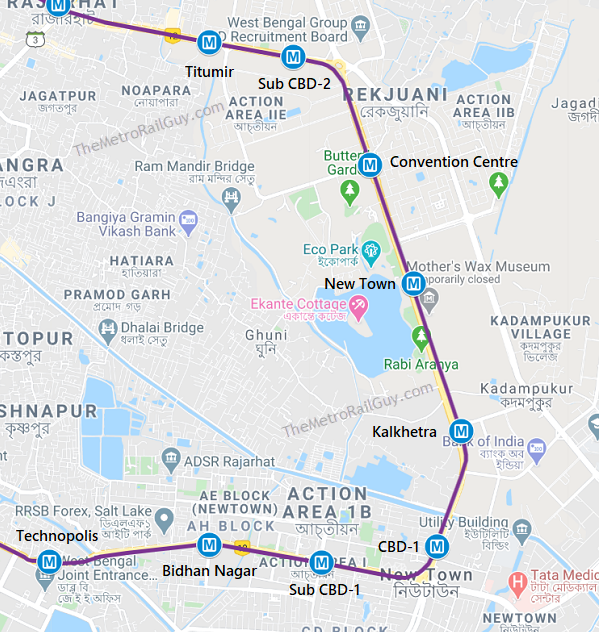 A few weeks ago, RVNL invited bids for appointing a Detailed Design Consultant (DDC) for this line's northern section from Titumir to the airport which indicates tenders for its civil construction should be invited by the end of the year.
Further south, here's how other stations on the line looked like in May –
For more updates, check out the Kolkata section of The Metro Rail Guy!
– TMRG