Chennai Metro Rail Limited (CMRL) today initiated the bidding process for its new 26.09 km Line-4 (Light House – Poonamallee) and 47 km Line-5 (Madhavaram – Sholinganallur) of the upcoming 118.9 km Chennai Metro Phase 2 project.
Tenders (bids) have been invited from construction companies to build Line-4's first 7.955 km elevated section with 9 stations, from Power House to Porur Junction on Arcot Road, which'll include a roughly 4.2 km integrated section with Line-5 between Alwartiru Nagar and Porrur Junction with 5 stations.
Completion Period: 1080 days (2.95 years)
Document Download / Sale Start Date: 14-Jul-2020 06:00 PM
Bid Submission Start Date: 05-Oct-2020 03:00 PM
Bid Submission End Date: 12-Oct-2020 05:00 PM
Bid Opening Date: 13-Oct-2020 05:00 PM
Tender No: CMRL/CON/Phase-II/C4-ECV-01/2020
Scope: CMRL invites open e-tender from reputed, experienced, financially sound, eligible applicants, who fulfill the qualificiation criteria as mentioned in the tender through International Open Competitive (IOCT) under Single Stage Two Envelope (Technical & Financial) system for the works as detailed below: Construction of Elevated Metro Stations at Power House, Vadapalani, Saligramam, Avichi School, Alwartiru Nagar, Valasaravakkam, Karambakkam, Alapapakkam Junction, Porur Junction & Associated Viaduct from Chainage 10027.102 to Chainage 17982.240 & all associated works.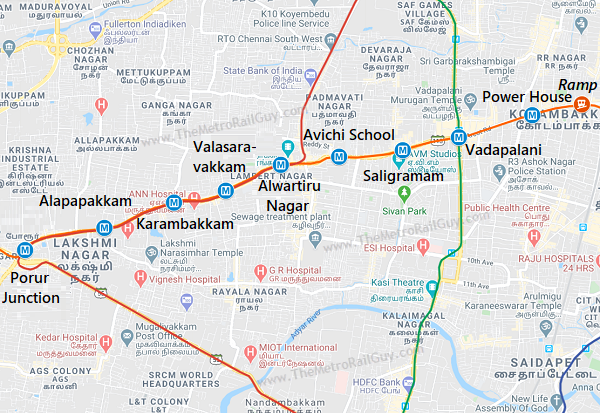 At Vadapalani, an interchange facility will be built to allow users to transfer to and from the existing Green Line station.
This section of the Line-4 will be partly financed by the Asian Infrastructure Investment Bank (AIIB) through a $356.65 million (approx. Rs. 2700 crore) loan. The loan's concept review was held and approved on December 13, 2019, and an appraisal decision is planned to be taken in September 2020.
Prior to this, CMRL invited bids for the construction of Line-3's tunnels in January 2020. The last date to submit bids for it was recently extended to September 9.
For more updates, check out the Chennai section of The Metro Rail Guy!
– TMRG