Mumbai Metropolitan Region Development Authority (MMRDA) today invited bids to develop Mumbai's integrated ticketing system which will allow for seamless commute across all modes of public transport, such as local suburban trains, BEST buses, metro lines, monorail line, and app-based taxis in the Mumbai Metropolitan Region.
Each of these transport modes has its own dedicated ticketing system, and plans to bring consolidate them – somewhat along on the lines of London's Oyster Card and Dubai's Nol Card systems – have been in the works since at least 2016.
Per the bidding document, the system must use the open standards & common specification, and support interoperability with the Government of India's National Common Mobility Card (NCMC) open loop Smart Card.
Besides ensuring a smoother experience for riders, the new system with all its bells and whistles is expected to lead to a reduction in paper wastage and rush at ticket counters.
MMRDA has invited bids for the selection of two partners –
Tender ID: MMRDA/TC/0002154
Brief Scope: Selection of a Mobile App Technology Partner To Develop and Operate The Common Mobility App
Publishing Date: 24.07.2020
Pre Bid meeting 06.08.2020 at 15:00 Hrs
Date of closing 31.08.2020 at 18:00 hrs
Bid Opening (Envelope A): 02.09.2020 at 12.00 hrs
Tender ID: MMRDA/TC/0002153
Brief Scope: Selection of a Banking partner for Transaction Acquiring, Card Issuing and AFC integration services
Publishing Date: 24.07.2020
Pre Bid meeting 05.08.2020 at 15:00 Hrs
Date of closing 31.08.2020 at 18:00 hrs
Bid Opening (Envelope A): 02.09.2020 at 12.00 hrs
The design of the Integrated Ticket System (ITS) card was launched in February along with the official colors of Mumbai Metro's new lines: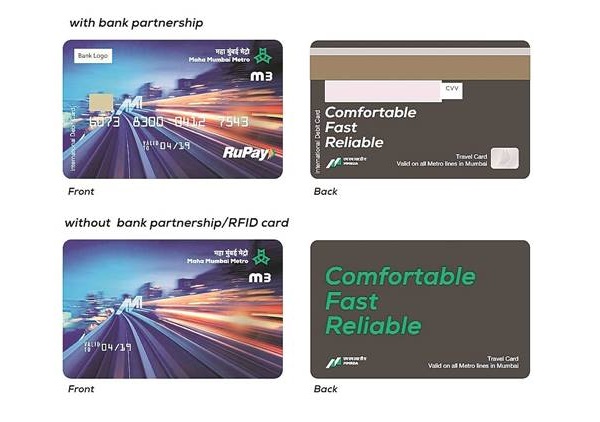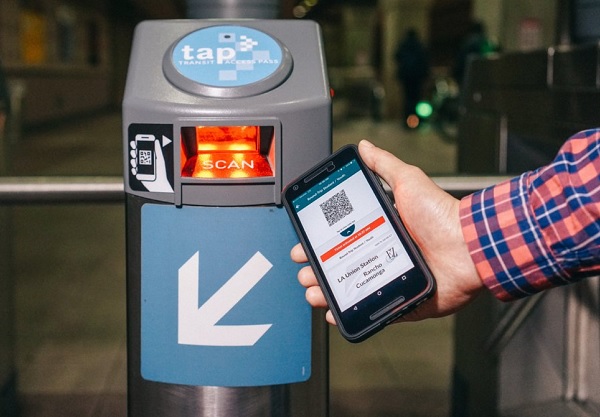 Functional Requirements of Mobile App
Enable passenger to get more specific information Real-time service information
Feedback & Emergency alert management from passengers Journey planning functionality
Purchase of QR ticket through digital payments
The application shall be available in both web version and mobile application
The mobile application shall have look and feel consistent with MMRDA's branding. Relevant MMRDA logo and project icon will have to be included in branding of the App
The mobile app and the web version should be available in three languages – Marathi, Hindi and English
The passenger should be able to enter the route and direction or select these from a sequence of drill down lists or from a map
The application shall display the ETA of corresponding transport mode as per the options stipulated on the mobile app platform based on the passenger's inputs of OD.
The backend system should be able to track the mobile application user once any SOS/Emergency is generated from it. The application shall also identify the exact transport mode/fleet & its crew details from the alert.
Registration of common mobility application platform shall consist of standard passenger KYC process adopted as per GOI/RBI rules. The minimum parameters for passenger KYC are listed below but not limited to it.
o Name
o Visual Identity(optional)
o Email Address
o Mobile Contact No
o Gender
o Any KYC Document Details
The application shall have functionality to see its previous tickets booking and completed trips. The module shall show upcoming trip if user books it in advance for same day.
The application shall have functionality for SMS service for passengers to receive updates through SMS and IVRS for in-app redirection to calling the IVRS for information.
Integration of social media platforms of the users for receiving updates (such as integrating WhatsApp number, etc).
The application shall be developed in native form that it shall support all type of mobile application resolution size & technology irrespective of operating system.
The application shall allow user to customize the app that they would like it by choosing or allowing the use of phone data i.e. Allow use of location, allow use of contact, allow use of mobile camera etc.
The UI of the application should be user friendly and shall demonstrate seamless operating experience.
Several features of common mobility application platform should support offline usage such as route guide, route maps, etc.
Scope for Banking Partner
Procurement, Personalization and Issuance of contactless NCMC compliant cards for metro lines 2A and 7.
Provide transaction clearing, reconciliation of accounts and revenue settlement in line with existing AFCS.
Complete issuance and top up setup on all metro stations and designated merchant outlets.
In addition to the physical top up of the MMR smart cards from Point of Sale machines setup of web enabled online card top-up over dedicated web channel with payment gateways and other banking channels.
Provide card customer support at stations, over Phone, Internet and at bank branch level for card issuance, renewal, refunds, customer account anagement and customer support with payment gateway and authentication services as per RBI requirements.
Manage the entire smart card life cycle management of open standards card specifications, payment scheme, card account management and card transactions as per the NCMC open loop card guidelines.
Manage and undertake marketing and sales of MMR smart cards with commuters, retailers/ merchants in MMRDA limits and urban agglomeration around with the objective of increasing card penetration, card-based ticketing and doing retail transactions.
Enable and undertake card usage over multi-modal transport, retail merchant, public utility payment, parking etc. as decided mutually between the bidder and the competent authorities.
The system shall support interoperability for NCMC open loop Smart Card with different operators and payment schemes using the open standards & common specifications.
The bidder shall follow the schedules of works and supply and shall complete the sections of the works by the key dates set out in the Section 4.3 of this tender document.
Provide end to end training to all stake holder staff, card issuance staff and metro operations control centre.
Obtaining certifications compliant to NCMC and other regulatory bodies wherever applicable.
Complete document management pertaining to card issuance and KYC management as per RBI guidelines.
For more updates, check out the Mumbai section of the Metro Rail Guy!
– TMRG