Voestalpine VAE VKN India Pvt. Ltd. on September 16 was awarded a Rs. 64.52 crore contract for the first track-work package (KNPAGT-2) of the 32.385 km Kanpur Metro and 29.40 km Agra Metro's Phase 1 projects by Uttar Pradesh Metro Rail Corporation (UPMRC).
This package includes the supply of standard gauge UIC 60 turnouts, scissor crossovers and check rails to allow the systems' Bombardier train-sets to guide from one track line to another.
UPMRCL invited bids for it in March 2020 with an estimate of Rs. 68.5 crore and completion period of 24 months. In June, technical bids were opened to reveal two bidders – Voestalpine and Vossloh Cogifer S.A. Technical bid evaluation was completed on August 25 and financial bids were opened sometime in early September.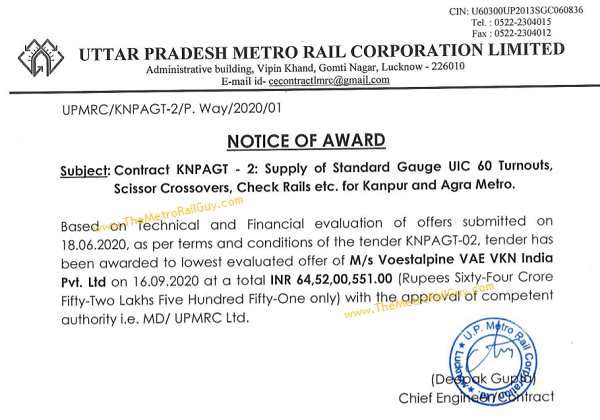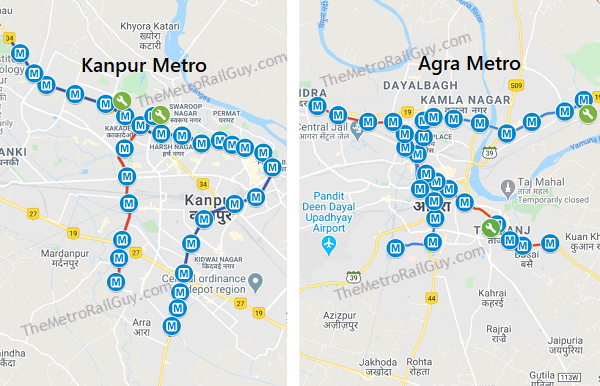 This is Voestalpine's second major recent win. Back in July they were awarded Pune Metro's UIC 60 turnout contract valued at Rs. 21.86 crore.
There are now two more track-work contracts that are pending award – see a list of packages and contracts here for Kanpur Metro and here for Agra Metro.
Package KNPAGT-1: Supply of 17,700 MT Head Hardened Rails (60 E1, IRS-T-12-2009, 1080 grade HH) – Estimate: Rs. 126.90 crore – view details
Package KNPAGT-4: Supply of 1620 MT Rails (UIC 60 / 60 E1, IRS-T-12-2009, 880 grade, Class A) – Estimate: Rs. 11.25 crore
For more updates, check out the Kanpur & Agra sections of The Metro Rail Guy!
– TMRG