Earlier this week, engineers from the Bangalore Metro Rail Corporation Ltd. (BMRCL), BEML and Alstom began high speed tests on the Green Line's 6.29 km Yelachenahalli – Anjanapura section of the Phase 2 project which'll extend the line southward through 5 new stations on Kanakapura Road.
Basic trial runs (tests) to check the train's interaction with the line's infrastructure had commenced on August 27, with a train getting operated at 5 kmph to check for physical infringements. Since then, testing has moved on to the next stages in which the train's response to being operated at different speeds & braking, and the behavior of the track system and third rail system is being monitored.
Last week, the Deputy Commissioner for Metro Rail Safety (Dy CMRS) from the Indian Railways' Southern Circle visited the line, and on this Monday high speed testing began in which BEML trains clocked a maximum speed of 80 kmph.
Here's a short video I tweeted last evening (PS: that's not my voice!).
Commercial operations on the Green Line's 3.9 km Reach-4A (RV Road – Yelachenahalli) have been suspended today to facilitate further testing.
This first new elevated section (Reach 4B) of the 73.92 km Bangalore Metro Phase 2 project was built by NCC, with Alstom providing both the power supply (electrification) and signaling solutions.
It includes 5 new elevated stations at Konankunte Cross (formerly Anjanapura Cross Road), Doddakallasandra (formerly Krishna Leela Park / ISKON), Vajrahalli, Thalgattapura, and Anjanapura (formerly Anjanapura Township) –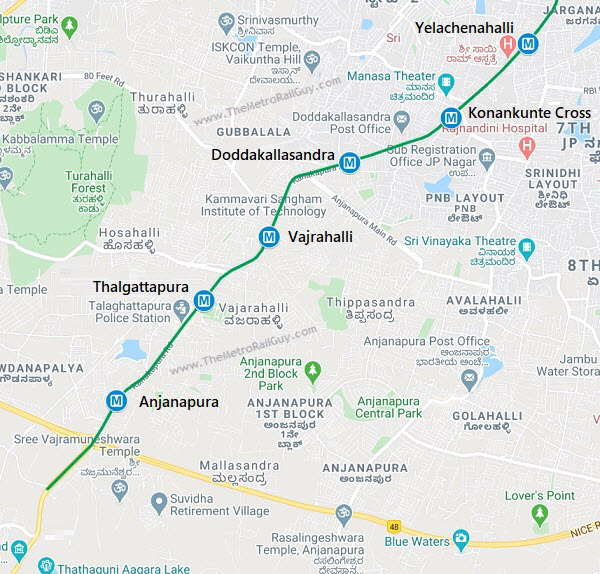 Alstom is aiming to wrap-up testing by October 15, so that the BMRCL can get the line certified fit for operations by the CMRS and open it for commercial services on November 1 which marks Karnataka Rajyotsava or Kannada Day. That said, architectural finishing work is still pending at a couple of stations by Godrej Interio. Per follower @BeleObbattu on Twitter –
If you look at the state of last metro station on the line, you'll think it won't be inaugurated for another year! They definitely can't complete the construction in a month .
Whether BMRCL opens the line with pending finishing works or not remains to be seen. Between today and November 1, among the major pending activities, they need to complete testing, receive the Independent Safety Assessor's sign-off, invite the CMRS, receive its sign-off, and then remediate any pending issues required by the CMRS.
For more updates, check out the Bangalore section of The Metro Rail Guy!
– TMRG