Three rail manufacturers today submitted tenders (bids) to supply and install ballastless tracks on the 2.95 km Kochi Metro's Phase 1A & 1B extension project, after officials from the Kochi Metro Rail Ltd (KMRL) opened technical bids this afternoon to reveal its list of bidders.
This new elevated section is currently under construction by KEC International in 2 civil packages, and will extend the city's 25 km Line-1 from Petta to Thrippunithura through 3 new stations at Vadakkekotta, S.N. Junction and Thrippunithura.
KMRL invited tenders for its track-work in August 2020 with an estimate of Rs. 28.67 crore and expects the assigned contractor to finish all work within 18 months.
Bidders:
Apurvakriti Infrastructure Pvt. Ltd.
Crescent Contractors Pvt. Ltd.
Vijay Nirman Company Pvt. Ltd.
Tender No: KAT-1
Scope: Supply Installation Testing and Commissioning of Ballastless Track work of Standard Gauge from Petta Station (excluding) to Thripunithura Terminal Station (inclusive) of the Elevated Section of Phase I Extension of KMRL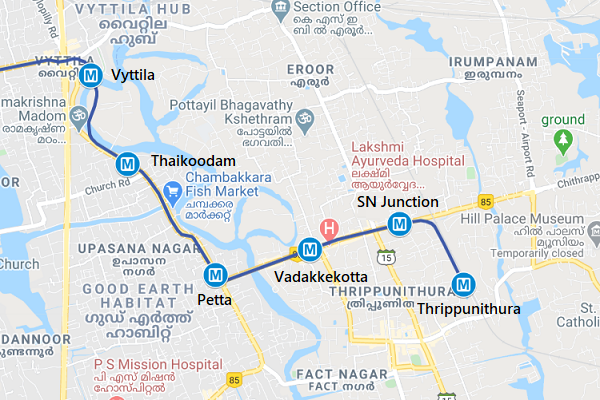 The bids now been sent for technical evaluation which can take a couple months to complete. When that is done, the financial bids of the technically qualified bidders will be opened to reveal who's the lowest bidder and most likely contractor.
This is the third major systems-related contract for the Phase 1A & 1B project. Back in August, Voltas was awarded its Rs. 22.15 crore Electrical & Mechanical works' KAE-01 contract, while Linxon was awarded its Rs 48.39 crore Third Rail Electrification & Power-supply KAE-04 contract. A list of all civil & system contracts awarded so far can be viewed here.
For more updates, check out the Kochi section of The Metro Rail Guy!
– TMRG