Gujarat Metro Rail Corporation (GMRC) today reinvited bids from engineering design firms for the appointment of a Detailed Design Consultant (DDC) to assist with executing two elevated sections of Surat Metro's 40.35 km Phase 1 project.
The scope of this DDC contract includes a 4.4 km eastern section of Line-1 connecting Sarthana with the UG Ramp near Kapodra through 4 stations, and the entire 18.741 km Line-2 connecting Bhesan – Saroli through 18 stations.
GMRC had originally invited bids for it in April-end 2020, and then abruptly cancelled the tendering process on September 24 without offering a reason. I'll add that reason here whenever available, but either they received no interest (I know some firms who have not bid) or there was a large change in scope, looking at the number of addendums and clarifications sought by bidders.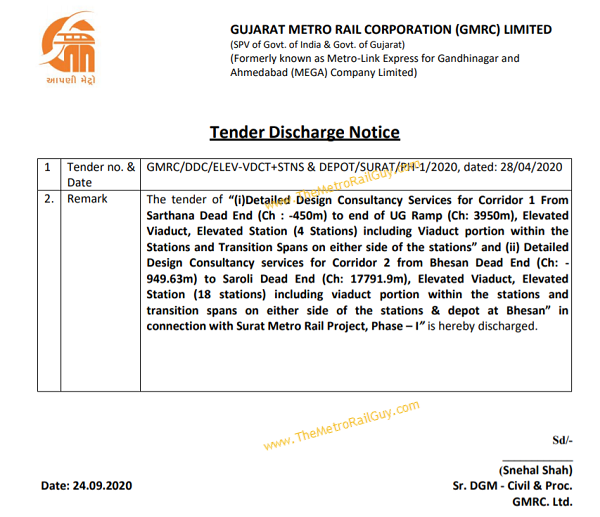 New Tender No: GMRC/DDC/ELEV-VDCT+STNS & DEPOT/SURAT/PH-1/R/2020
Estimate Cost: Rs. 40.42 Crore
Completion Period: 39 months
Pre-Bid Meeting: October 22, 2020 at 11:30 am
Bid Submission Deadline: November 26, 2020 at 3 pm
Scope: "(i)"Detailed Design Consultancy Services for Corridor 1 From Sarthana Dead End (Ch : -450m) to end of UG Ramp (Ch: 3950m), Elevated Viaduct, Elevated Station (4 Stations) including Viaduct portion within the Stations and Transition Spans on either side of the stations" and "(ii) "Detailed Design Consultancy services for Corridor 2 from Bhesan Dead End (Ch: -949.63m) to Saroli Dead End (Ch: 17791.9m), Elevated Viaduct, Elevated Station (18 stations) including viaduct portion within the stations and transition spans on either side of the stations & depot at Bhesan" in connection with Surat Metro Rail Project, Phase – I"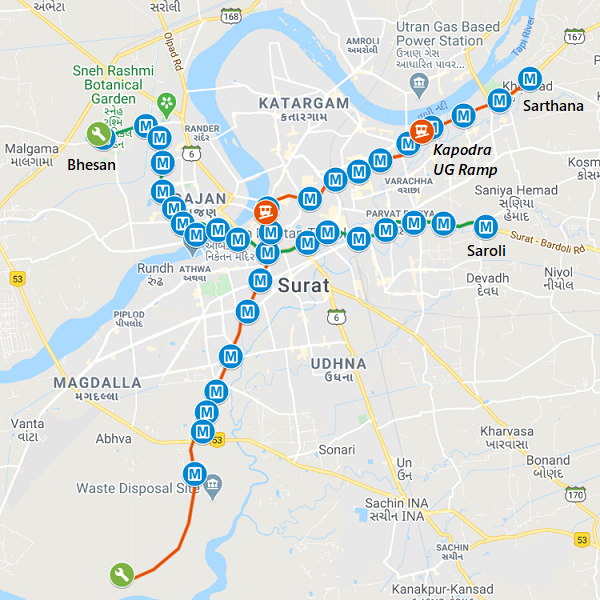 Late last month, GMRC received 6 bids to construct the first 11.6 km elevated section connecting Kadarsha Ni Nal with Dream City (Package CS1) – view bidders and scope.
For more updates, check out the Surat section of The Metro Rail Guy!
– TMRG