India's National High-Speed Rail Corporation Limited (NHSRCL) has received 12 and 5 separate bids for carrying out a survey of utilities and preparing a ridership / traffic study for the upcoming 741 km Mumbai – Nasik – Nagpur High Speed Rail (MNHSR bullet train) project in Maharashtra.
After the 865 km Delhi – Varanasi High Speed Rail Line and 886 km Delhi – Ahmedabad High Speed Rail Line, this is the third of six new high speed rail corridors, planned by the Government of India in 2019, for which basic preliminary work has commenced to start construction on the project.
NHSRCL had invited bids for both these services, to help prepare the line's Detailed Project Report (DPR), in September 2020 with varying lengths of completion.
NHSRCL/CO/EL/POWER/2020/25
Scope: Survey, Identification of Overhead, Over Ground, Underground Utilities And Identification Of Power Sourcing Options for substations Along The Proposed Mumbai- Nasik-Nagpur High Speed Rail Corridor.
Period of Work: 112 days
Technical Bids Opened: September 30
Bidders (12):
Apeco Infrastructure India Pvt. Ltd.
Ark Services
CE Testing Company Pvt. Ltd.
Chetak Engineers
Epitome Geotechnical Services Pvt. Ltd.
KC Power Infra Pvt. Ltd.
Last Peak Data Pvt. Ltd.
Mascon Multiservices and Consultants Pvt. Ltd.
Monarch Surveyors and Engineering Consultants Pvt Ltd.
Softa Geotechnical Pvt. Ltd.
Subudhi Technoengineers Pvt Ltd.
Tojo Vikas International Pvt. Ltd.
NHSRCL/CO/CA/TRAFFIC/2020/29
Scope: Carrying out Ridership Study (Traffic Study) for Mumbai – Nagpur HSR Corridor High Speed Rail Corridor.
Period of Work: 120 days
Technical Bids Opened: October 14 (today)
Bidders (5):
Delhi Integrated Multi-Modal Transit System Ltd. (DIMMTS)
PK Engineers
RITES Ltd.
T&T Consultants Pvt. Ltd.
Urban Mass Transit Company Ltd. (UMTC)
As shared earlier – on the Mumbai end of the line, the line's new civil infrastructure is expected to start from Thane, or thereabouts, and branch off from the 508.17 km Mumbai Ahmedabad High Speed Rail corridor which in Maharashtra is riddled with land acquisition issues (especially Palghar district) and an indifferent incumbent state government.
The 12 new stations are tentatively planned to be built at Shahapur, Igatputi, Nasik, Shirdi, Aurangabad, Jalna, Mehkar, Malegaon Jahangir, Karanja Lad, Pulgaon, Wardha and Nagpur.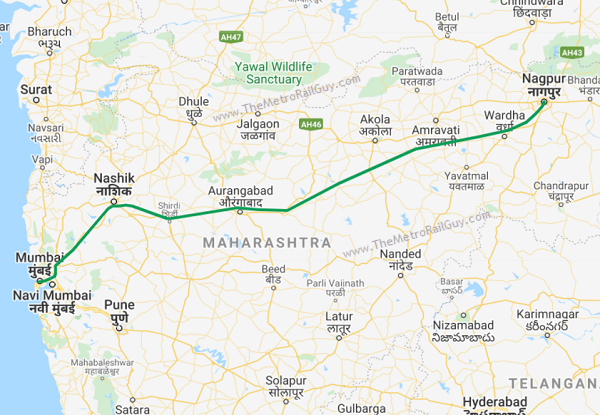 The finalization of the line's alignment is months, if not years, away, but the line is expected to partly follow the under construction 701 km Samruddhi Mahamarg Expressway (Nagpur Mumbai Super Communication Expressway) which will connect 10 districts of the state.
Unless the bid submission time is pushed out – next week, technical bids for the following 5 tenders to further help prepare the line's DPR are planned to be opened. Basic tender info of each can be viewed here.
Data Collection and Associated Survey Work
Preparation of Detailed Social Impact (SIA), Resettlement Action Plan (RAP)
Preparation of Environmental Impact Assessment (EIA)
Final Alignment Design including LiDAR survey
Preparation of GADs of Crossing Bridges over Rivers Canals Railways and Roads Expressway NH SH and Major District Roads and GADs of proposed Stations and Maintenance Depots
I will likely cover them in one or two posts, so stay tuned…
For more updates, check out the High Speed Rail section of The Metro Rail Guy!
– TMRG