Voestalpine VAE VKN India Pvt. Ltd. and Vossloh Cogifer S.A. are the two rail manufacturing firms that submitted bids today for supplying standard gauge 60 kg UIC turnouts and scissor crossovers (Package 15) for the 82.15 km Delhi – Meerut RRTS Line, after officials from the National Capital Region Transport Corporation (NCRTC) opened tenders minutes ago to reveal its list of bidders.
NCRTC had invited tenders (bids) for this package in May 2020 funded by the Asian Development Bank (ADB). They estimate it to cost $24.62 million (approx. Rs 180.58 crore) and expect the assigned contractor to complete work in 810 days (2.2 years) from when the contract is awarded.
Tender No: Package 15 – DM/TW/COR-OF/112
Scope: Design, Manufacture and Supply of Standard Gauge 60 Kg UIC Turnouts and Scissors Cross over for Delhi-Ghaziabad-Meerut Regional Rapid Transit System (RRTS) Corridor.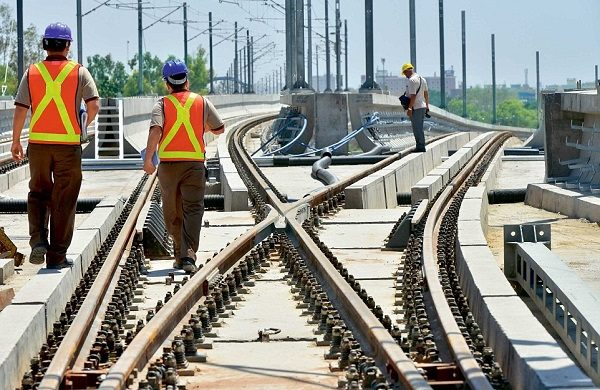 The bids have now been sent for technical evaluation which can take a couple months to complete. When that is done, the financial bids of the technically qualified bidders will be opened to reveal who's the lowest bidder and most likely supplier
Back in late-September Larsen & Toubro won the line's Rs 648.46 crore track-work contract (Package 17), narrowly beating the KEC-STS-VNC consortium by just Rs 6 lakh. Prior to that, ArcelorMittal España won the line's Rs. 144.79 crore Head-Hardened rails contract (Package 13).
I hear that financial bids for Package 14 (rail fastening system) were opened in late-September, but don't have its bid results. If anyone reading this does, please leave a comment below or shoot me a message via the contact page.
The bid submission date for Package 18 – for supplying a rail grinding machine – is coming up on October 21. A list of all packages (civil & systems) and their status can be viewed here.
For more updates, check out the NCR RRTS section of The Metro Rail Guy!
– TMRG