ArcelorMittal España S.A. today emerged as the lowest bidder for supplying 22,000 MT of 60E1 Head Hardened rails (Package 13) for the under construction 82.15 km Delhi – Meerut Regional Rapid Transit System (RRTS) line after officials from the National Capital Region Transport Corporation (NCRTC) opened financial bids for its contract.
These special rails must conform to 60E1 – 1080 grade as per Indian Railway Specification T-12-2009, and are manufactured through a special heat treatment process to provide additional strength, lower residual stress, elongate track-life and minimize maintenance.
Tenders for this systems-related contract were invited in December 2019, and technical bids were opened on February 24, 2020 to reveal 5 bidders. Out of those, the bid of Jindal Steel & Power Ltd. – the only bidder with a domestic plant – was found to be technically non-compliant to the tender conditions, so their bid was disqualified and financial bid was not opened.
NCRTC's estimate is unknown.
| | |
| --- | --- |
| Bidder | Value |
| ArcelorMittal España S.A. | Rs. 144.79 crore |
| Mitsui & Co. Ltd. | Rs. 148.15 crore |
| East Metals AG | Rs. 150.62 crore |
| Voestalpine Schienen GmbH | Rs. 155.01 crore |
NCRTC Tender Notice: DM/TW/COR-OF/087
Scope: Manufacture, Supply, transportation and delivery of 22,000 MT of 60E-1, 1080 Grade Head Hardened Rails Class-A, undrilled Rails conforming to IRS T-12-2009 (With all correction slips/Corrigendum up to the date of 28 days prior to dead line for submission of Bids) for Delhi-Ghaziabad-Meerut Regional Rapid Transit System (RRTS) Corridor in India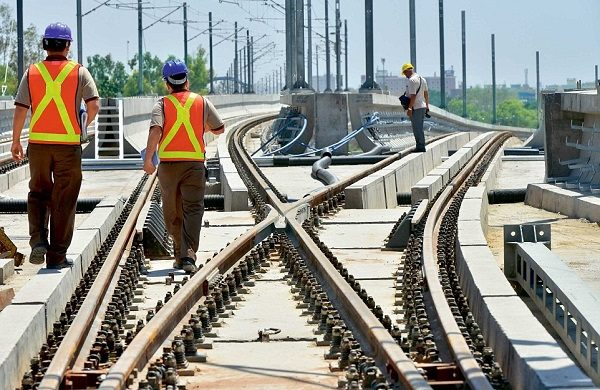 The financial bids will now be evaluated by NCRTC's procurement and finance teams, and if no issues arise – then ArcelorMittal will be awarded with the Delhi – Meerut line's Head Hardened Rails contract in the coming weeks. They will have 24 months to manufacture and deliver them, which will likely be done from their Gijón Rail Mill in Asturias, Spain.
With today's development, here's the current status of the Delhi – Meerut RRTS line's major systems related contracts:
A detailed status of each civil package can be viewed here.
For more updates, check out the NCR RRTS section of The Metro Rail Guy!
– TMRG