Earlier this month, Jindal Steel and Power Ltd. (JSPL) announced it had secured an order for 2,308 tonnes of head hardened rails from Kolkata Metro Rail Corporation (KMRC) for the under construction 16.34 km Line-2 connecting Howrah Maidan – Esplanade – Sealdah – Sector V.
These special tracks will be 60E1 – 1080 grade as per Indian Railway Specification T-12-2009 and manufactured through a special heat treatment process to provide additional strength, lower residual stress, elongate track-life and minimize maintenance.
Tracks manufactured by JSPL will exclusively be installed on the underground Phase 2 (Howrah Maidan – Sealdah) section of the line.
Prior to this, Austria's Voestalpine Schienen GmbH in 2014 won an order for 2700 tonnes of head hardened rails from KMRC for the partly operational Phase 1 (Sealdah – Sector V) section. The contract for supplying & installing regular tracks of UIC 60 / 60 E1, IRS-T-12-2009, 880 grade for the entire line was won by Kalindee – Rahee JV in 2012 with a contract value of Rs. 166 crore.
Without disclosing the contract's value, JPSL's managing director V R Sharma told the Press Trust of India –
"We have got an order of 2,308 tonne head hardened rails of 1080 HH grade from KMRC. "The Research Designs and Standards Organisation (RDSO) (under Ministry of Railways) has also given its approval for manufacturing and supply of 60E1 grade and 1080 HH grade head hardened rail."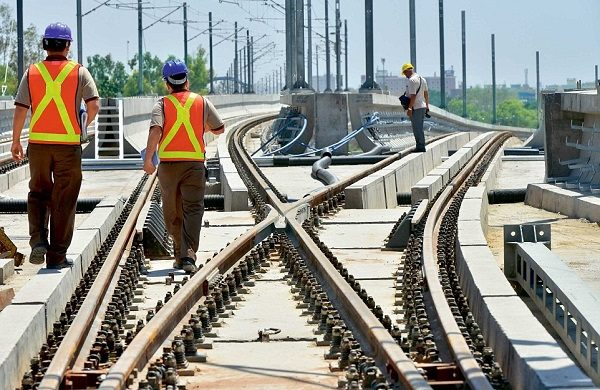 JSPL is the only Indian rail manufacturer capable of producing these special tracks. Their rail plant is located in nearby Raigarh, Chhattisgarh and has a capacity of producing 30,000 tonnes of head hardened rail per month. The company is expected to begin supplying the order after the ongoing lock-down due to COVID-19 ends.
For more updates, check out the Kolkata section of The Metro Rail Guy!
– TMRG
Hat-tip to Rupraj Sengupta