Historic moment for Kolkata! A little more than 35 years since Line-1 was opened, the city now has a Line-2.
India's Union Minster for Railways Piyush Goyal on Thursday evening inaugurated services on a 5.3 km elevated section of Kolkata Metro's 16.34 km Line-2 which will eventually connect Howrah Maidan with Sector V. Commercial operations for passengers start today (Friday) at 8 am.
Construction on the section between Salt Lake Stadium and Sector V commenced in February 2009 by Gammon India for its viaduct and by Simplex Infrastructure for its stations. In 2011, the state government pulled out of Kolkata Metro Rail Corporation (KMRC) due to petty politics, handing over its stake and execution to the Indian Railways. Barring a 350m stretch dotted with slums in Duttabad (north of Bengal Chemicals Station), the contractors had a clear right of way elsewhere.
Trial runs on this section commenced in July 2018. The line received RDSO's clearance in May 2019 and the line was certified fit for operations by the Commissioner of Rail Safety (CRS) in August 2019 with a 3 month validity. KMRC was unable to commence operations as planned in November due to technical glitches leading to an expiration of the CRS' certificate which mandated operations to commence within 3 months. KMRC then secured a 3 month extension to resolve issues.
The elevated section cuts through Bidhannagar (Salt Lake) in the eastern part of Kolkata and comprises of 6 stations at Salt Lake Stadium, Bengal Chemical, City Centre, Central Park (where the depot-line connects to), Karunamoyee and Sector V.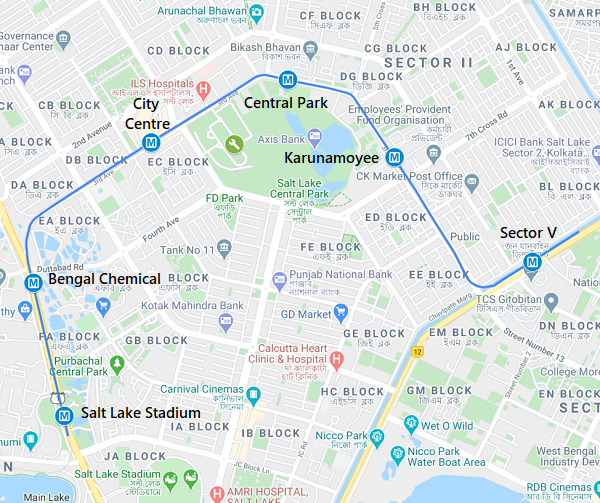 Line-2 is equipped with Ansaldo STS' CBTC (communication based train control) signalling system and its BEML rolling stock comprising of 14 trains x 6 coaches (view features) is based out of the Central Park Depot.
Some images from the event and prior –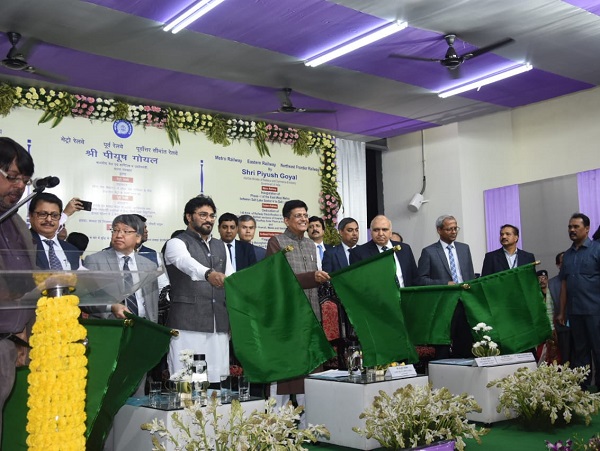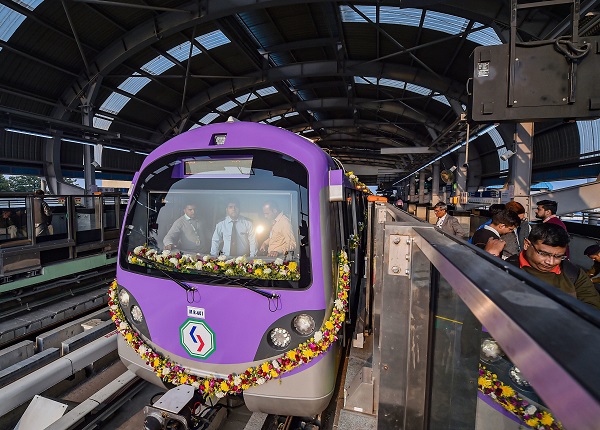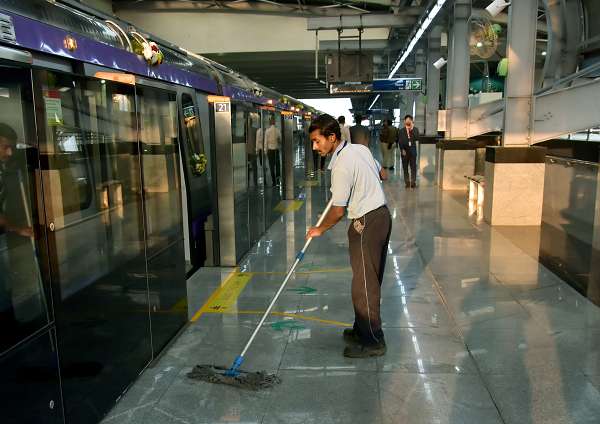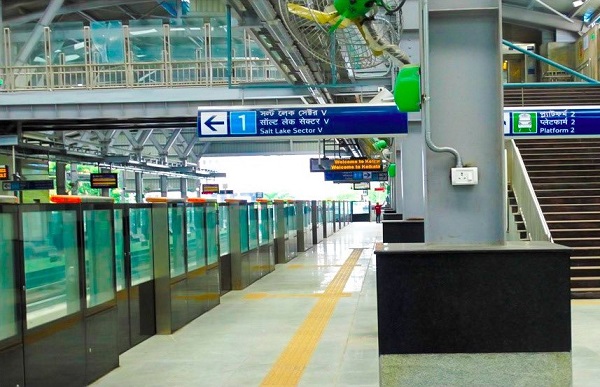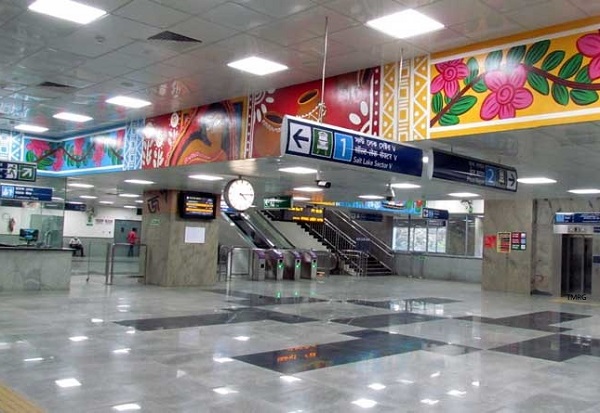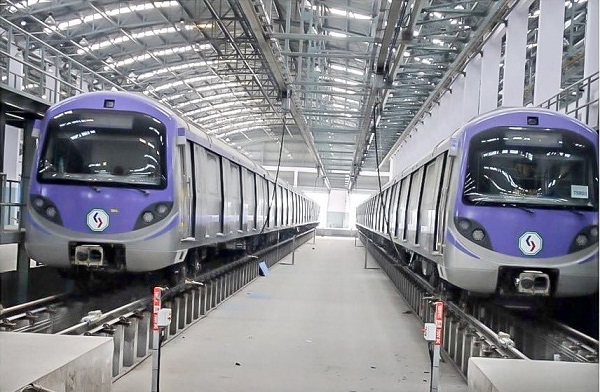 Commercial operations start today (Friday) at 8 am with 2 trains plus an additional one on standby, operating with 20 minute headways between 8 am and 8 pm on Weekdays. End-to-end travel will cost Rs. 10.
With this development, Kolkata Metro has become 33.4 km long, surpassing Noida Metro to become the 5th largest in India. Due to tardy construction & approvals, horrible project management, multiple route changes in the underground section and the recent tunneling incident in Bowbazar, both lines of the city will operate in a stand-alone configuration with no integration for at least 2 years – similar to what BMRCL in Bangalore had to do between 2015-17.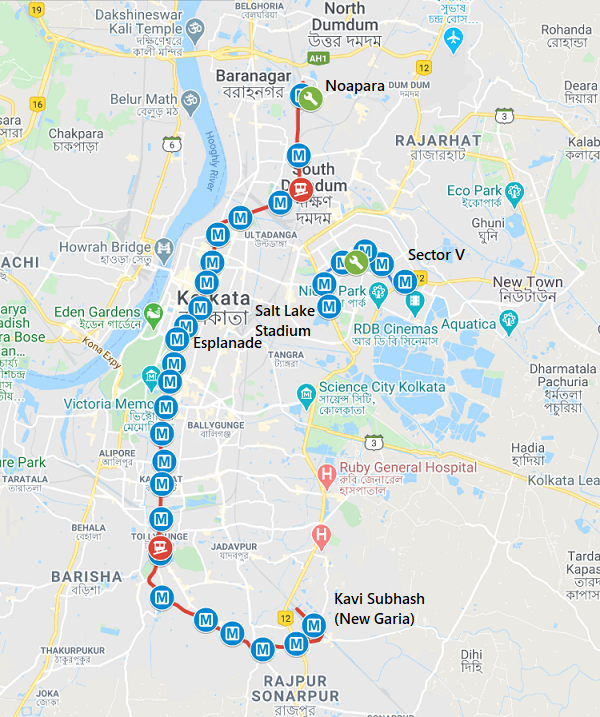 This Wednesday, the Calcutta High Court allowed tunneling work to restart, so I expect Line-2 to be connected to Line-1's Esplanade Station only in or after 2023. Between now and then, the line is planned to be extended by 1.9 kms to Phoolbagan Station – the 1st underground station of the line to which trial runs have commenced, and onward to Sealdah by 2022 after tunneling work to Esplanade and back gets completed by ITD Cementation.
For more updates, check out the Kolkata section of The Metro Rail Guy!
– TMRG