May 7 Update: Contract has been awarded to Bombardier.
Original Post:
Bombardier Transportation on Friday afternoon emerged as the lowest bidder for supplying & maintaining 210 standard gauge coaches for the under construction 82.15 km Delhi – Meerut Regional Rapid Transit System (RRTS) line after officials from the National Capital Region Transport Corporation (NCRTC) opened financial bids for its contract.
Tenders for the line's rolling stock procurement were invited in August 2019 with an original submission date of November 9, 2019. This date was pushed back to March 12 as the bidders needed additional time. Prequalification and technical bids were opened on the same day to reveal a list of 3 bidders – Alstom, Bombardier and CAF.
NCRTC's estimate is unknown.
| | |
| --- | --- |
| Bidder | Value |
| Bombardier Transportation India Pvt. Ltd. – Bombardier Transportation Sweden AB – Bombardier Transportation UK Ltd. JV | Rs. 2577 crores |
| CAF India Private Limited – Construcciones Y Auxiliar De Ferrocarriles S.A JV | Rs. 2850 crores |
| Alstom Transport India Ltd. – Alstom Transport S.A. – Alstom Ferroviaria SPA JV | Rs. 3343 crores |
The financial bids will now be evaluated by NCRTC's procurement, rolling stock and finance teams.
Per Economic Times, Titagarh Wagons and BEML recently complained to the Department for Promotion of Industry and Internal Trade (DPIIT) that NCRTC's tender qualification rules do not support the government's 'Make in India' initiative.
Whenever that issue is resolved, and if no further issues arise, then Bombardier will go on to be awarded with the line's rolling stock order – its fifth in India for modern train-sets. The prior 4 were placed by the Delhi Metro Rail Corporation, the last one (contract RS-11) for 162 coaches in June 2015 which it fulfilled through its plant in Savli, Gujarat.
NCRTC Tender Notice: DM/RS/COR-OF/69
Scope: Design, Manufacture, Supply, Testing, Commissioning and Comprehensive Maintenance of RRTS and MRTS Trainsets, and Depot Machinery & Plants for Delhi – Ghaziabad – Meerut Project.
Completion Period of Work: 243 weeks (excluding Maintenance Period) + 15 Years for Maintenance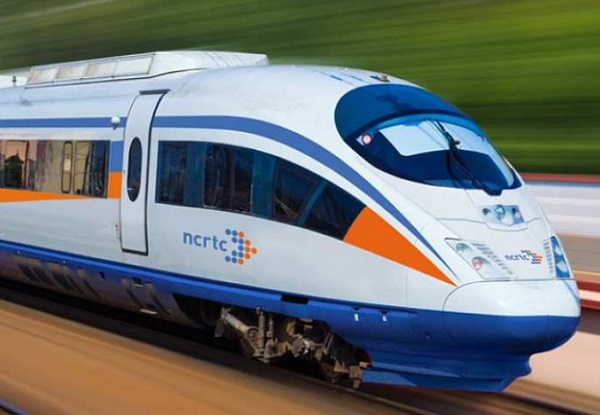 As highlighted in an earlier post, the system's aerodynamic trains will be lightweight and have a stainless steel / aluminium body. They'll have a design speed of 180 kmph, operational speed of 160 kmph and average speed would be 100 kmph.
Aided with the line's ETCS Level 2 signalling & train-control system, the journey between Delhi and Modipuram, north of Meerut, will be cut down to an hour (62 minutes advertised) from the current 3-4 hour time it takes by National Highway 34.
Out of the 210 coaches being procured, 180 coaches (30 train-sets of 6 coaches) will be used for long-distance end-to-end services from Delhi's Sarai Kale Khan Station to Modipuram Station – view route map.
The rest 30 coaches will run as 10 trains in a configuration of 3 cars for servicing the Meerut Metro project's north-south Line-1, with dedicated metro-only stations roughly every kilometre at Partapur, Rithani, Brahmapuri, Meerut Central, Bhaisali, MES Colony, Daurli, Meerut North and Modipuram.
Each express RRTS train will consist of one business class coach which will be accessible through a special lounge on the platform-level of certain stations. Coaches will be 22 m long x 3.20 m wide, and are planned to have to have transverse (latitudinal) seats, unlike most metro trains with longitudinal seating, for passenger comfort over long distances.
For more updates, check out the NCR RRTS section of The Metro Rail Guy!
– TMRG