October 23 Update: Sam India has been awarded AGCC-01's Rs 272.95 crore contract.
October 19 Original Post:
Sam India Builtwell Pvt. Ltd. today emerged as the lowest bidder to construct the 4 km Taj East Gate Station – Taj Mahal Ramp (Package AGCC-01) section of Agra Metro's 14.25 km Line-1, after officials from the Uttar Pradesh Metro Rail Corporation Ltd. (UPMRCL) opened financial bids this afternoon.
This first elevated package of the 29.40 km Agra Metro Phase 1 project will consist of 3 stations at Taj East Gate, Basai and Fatehabad Road in eastern Agra. West of the ramp, the line will run underground until Shastri Nagar on GT Road, with an interchange facility at Agra College for allowing passengers to switch to the 15.40 km Line-2 (Agra Cantt. – Kalindi Vihar).
UPMRCL invited tenders (bids) for this section's construction in August 2020 with an estimated cost of Rs. 290 crore and expects the assigned contractor to complete work in 26 months. They opened technical bids to reveal 3 bidders on October 5 and completed evaluation on October 16 in just 11 days.
Financial Bid Values:
| | |
| --- | --- |
| Firm | Bid |
| Sam (India) Builtwell Pvt. Ltd. | Rs. 272.90 crore |
| URC Construction Pvt. Ltd. | Rs. 301.34 crore |
| Afcons Infrastructure Ltd. | Rs. 355.08 crore |
Package: AGCC-01
Scope: Construction of elevated viaduct and 3 nos. elevated metro stations (viz. Taj East Gate, Basai & Fatehabad Road) including civil, architectural finished, water supply, fire fighting, fire detection, E&M works and PEB structures on Priority Corridor-1 of Agra Metro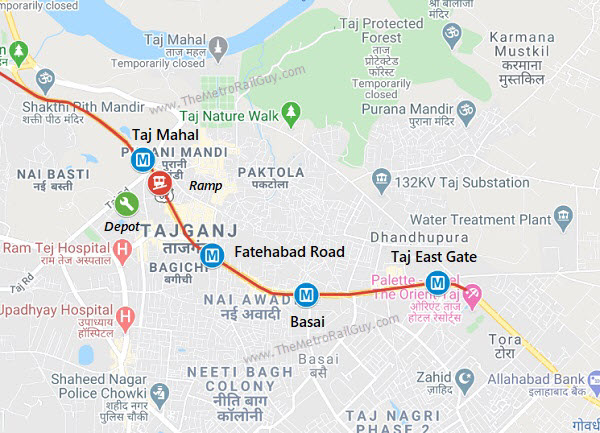 Sam India's bid of Rs 272.90 crore was well below UPMRC's estimate of Rs 290 crore, so I don't see any issues arising during financial bid evaluation. In the coming weeks, UPMRCL should award them with the project's second major civil contract, with an aim to complete all civil work in 26 months.
Compared to other cities, including others in Uttar Pradesh, things are moving along extremely fast for Agra Metro. Back on October 14, Lisha Engineers was awarded a Rs 112.63 crore contract to build Line-1's PAC Depot after they emerged as the lowest bidder on October 5. Ground work on both packages should begin before the year ends.
For more updates, check out the Agra section of The Metro Rail Guy!
– TMRG