India's National High-Speed Rail Corporation Limited (NHSRCL) on Monday invited tenders (bids) for the first ever preparatory survey work to develop the Detailed Project Report (DPR) for the upcoming 465 km Delhi – Chandigarh – Amritsar High Speed Rail (DCAHSR bullet train) project in Delhi, Haryana and Punjab.
This is the fourth of six new high speed rail corridors, planned by the Government of India in 2019, for which basic preliminary work has commenced to start construction on the project. Others already in the preparatory stage include the 865 km Delhi – Varanasi line, 886 km Delhi – Ahmedabad line, and 741 km Mumbai – Nagpur line.
NHSRCL/ST/DAM/04/DLI-CHD -AMR HSRTend./79/.2
Scope: Survey, Identification of Overhead, Over Ground, Underground Utilities And Identification Of Power Sourcing Options for substations along the proposed Delhi – Chandigarh – Amritsar High Speed Rail Corridor.
Period of Work: 98 days
Bid Submission End Date: 09-Nov-2020 03:00 PM
Bid Opening Date: 10-Nov-2020 03:30 PM
The bidding documents will be available to download later this morning, so it'll be interesting to see if NHSRCL reveals any of the planned station names or their numbers within it. If they do, I'll add an update here.
I expect stations on this line to come up at New Delhi Railway Station in Delhi, Sonipat, Panipat, Ambala, Chandigarh, Ludhiana, Jalandhar and Amritsar.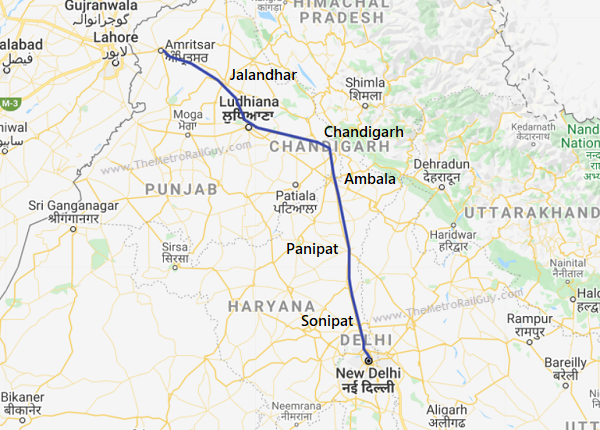 Bidding is currently underway for a new Delhi – Amritsar – Katra Expressway with 4 lanes (expandable to 6 lanes), but that will take a more direct greenfield route, while this high speed rail line will run parallel to NH-44, NH-5 and NH-3 through the densely populated and urbanized areas of Haryana and Punjab.
If the other three new lines' development is anything to go by, then in the coming days NHSRCL will invite bids for the following tenders:
Carrying out Ridership Study (Traffic Study)
Data Collection and Associated Survey Work
Preparation of Detailed Social Impact (SIA), Resettlement Action Plan (RAP)
Preparation of Environmental Impact Assessment (EIA)
Preparation of Final Alignment Design including LiDAR survey
Preparation of GADs of Crossing Bridges over Rivers Canals Railways and Roads Expressway NH SH and Major District Roads and GADs of proposed Stations and Maintenance Depots
For more updates, check out the High Speed Rail section of The Metro Rail Guy!
– TMRG