December 30, 2020 Update: Tender has been cancelled. Contract was not awarded.
October 29, 2020 Original Post:
Steel Authority of India Ltd. (SAIL) on Monday emerged as the only technically qualified bidder for supplying 1620 MT of rails for the 32.385 km Kanpur Metro and 29.40 km Agra Metro's Phase 1 projects after officials from the Uttar Pradesh Metro Rail Corporation (UPMRC) completed technical bid evaluations.
This development automatically made SAIL the lowest bidder for package KNPAGT-4 when their financial bid was opened on Tuesday (October 27) afternoon. Their bid's value is unknown at this time, and I'll add it in when available.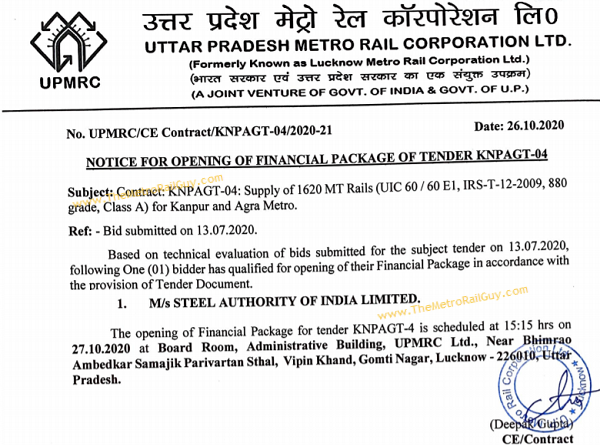 UPMRC had invited bids for this package in February 2020 with an estimate of Rs 11.25 crore and completion period of 12 months. Technical bids were opened in mid-July and evaluation was completed on October 23.
Brief Scope: Uttar Pradesh Metro Rail Corporation (UPMRC) Ltd. invites Open Tenders on Local Competitive Basis (LCB) from eligible applicants from all areas, who fulfil qualification criteria as stipulated in Section III of bid documents, for the work "Contract KNPAGT – 4: Supply of 1620 MT Rails (UIC 60 / 60 E1, IRS-T-12-2009, 880 grade, Class A) for Kanpur and Agra Metro."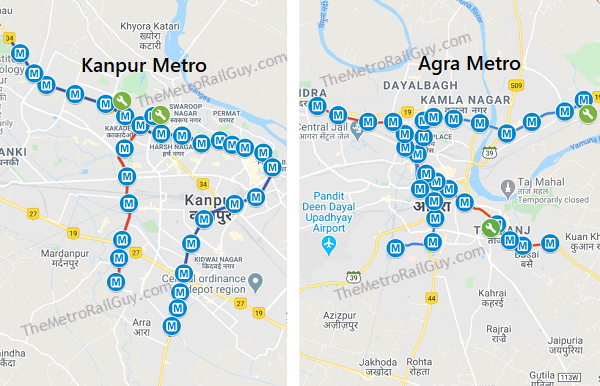 If no issues arise during financial bid evaluation, then SAIL will go on to be awarded with both project's second track-work related contract.
With this development, now only 2 more track related tenders (KNPAGT-1 & KNPAGT-3) are pending award – see a list of packages and contracts here for Kanpur Metro and here for Agra Metro.
Package KNPAGT-1: Supply of 17,700 MT Head Hardened Rails (60 E1, IRS-T-12-2009, 1080 grade HH) – Status: Bidding Underway
Package KNPAGT-2: Supply of standard gauge UIC 60 turnouts, scissor crossovers and check rails – Status: Awarded to Voestalpine VAE VKN India
Package KNPAGT-3: Design, Installation, Testing & Commissioning of Ballastless Track of Standard Gauge in 4 Corridors in Elevated as well as Underground Sections of Kanpur and Agra Metro Project along with supply of fastening systems and associated Ballasted/Ballastless Tracks in 4 Depots – Status: Bids Invited on October 16 (Bidding Underway)
Package KNPAGT-4: Supply of 1620 MT Rails (UIC 60 / 60 E1, IRS-T-12-2009, 880 grade, Class A) – Status: Pending Award to SAIL (this post!)
For more updates, check out the Kanpur & Agra sections of The Metro Rail Guy!
– TMRG