Per the updated website of the Asian Infrastructure Investment Bank (AIIB), the bank's board of directors in October approved a USD 500 million (approx. Rs 3694 crore) loan to the National Capital Region Transport Corporation (NCRTC) for partially funding the civil & system procurement for the under construction 82.15 km Delhi – Meerut RRTS line.
Per a follower the decision was taken on October 29, and with this development, this Rs 30,274 crore ($4 billion) semi high-speed rail project is just a formal agreement away from being fully financed. Prior to this, the Asian Development Bank (ADB) approved a USD 1 billion loan in August and New Development Bank (NDB) approved a USD 500 million loan in September.
AIIB's Timeline:
Date of Concept Decision: March 24, 2020
Date of Appraisal Decision: July 21, 2020
Date of Financing Approval: October 29, 2020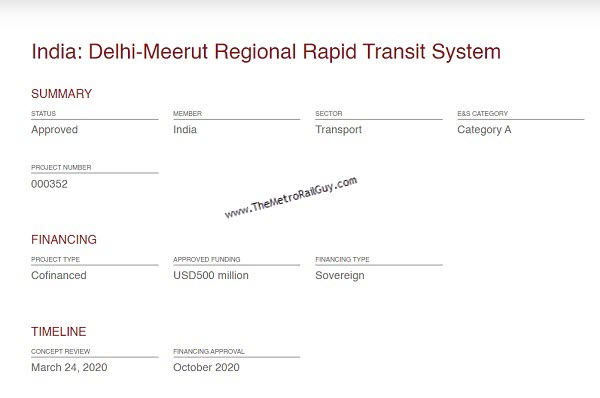 AIIB's Project Description
The proposed Project involves the development and construction of an 82 km rail-based rapid transit system, with a design speed of 180 km per hour (km/h) and an average speed of 100 km/h. The Project will connect Sarai Kale Khan in Delhi to Modipuram in Meerut, Uttar Pradesh. The Project will be jointly cofinanced with the ADB under its Multi-tranche Financing Facility (MFF) comprising four tranches. The Project component to be jointly cofinanced by AIIB and ADB includes civil works for elevated and underground sections with stations, two depots, track work and traction. Other Project components to be financed by the Government of India, the Government of Uttar Pradesh, and the Government of Delhi (Governments) are detailed design consultants, a General Consultant, two elevated civil works packages for the first 17 km of the corridor from Delhi, and all land acquisitions required for the Project. Further, rolling stock is also proposed to be financed by the Governments.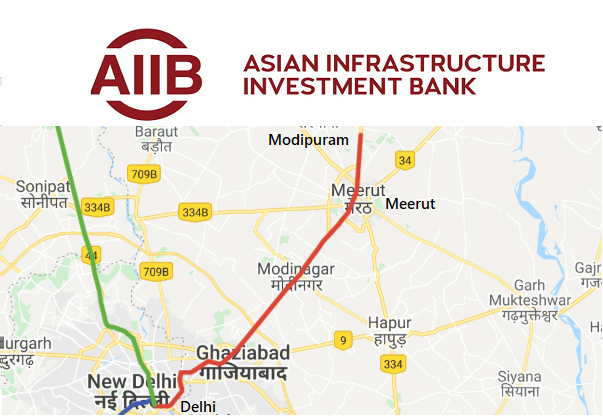 A list of the project's packages (civil & systems) and their status can be viewed here.
Prior to this, AIIB' board approved Bangalore Metro Pink Line's 335 million loan on December 8, 2017. The following rail projects are currently awaiting its approval:
For more updates, check out the NCR RRTS section of The Metro Rail Guy!
– TMRG