The Delhi Metro Rail Corporation (DMRC) has abruptly canceled its procurement process for 29 Metrolite (Light Rail Transit) trains to run on the upcoming 19.15 km Kirti Nagar – Bamnoli Village (Dwarka ECC) corridor.
Tenders/bids for the procurement of these new standard gauge trains, with an original configuration of 22 trains of 3 cars, were invited in January 2020 with a submission date in April. Since then, the number of trains had been revised up to 29 and the submission date had been extended at least 2 times – the latest being November 20.
Per an industry follower, the tender of these trains (Package MLRS1) was canceled on October 5 with no official reasoning provided in the corrigendum notice. On the tendering system side of things, the reason provided is simply "Due to administrative reasons/issues"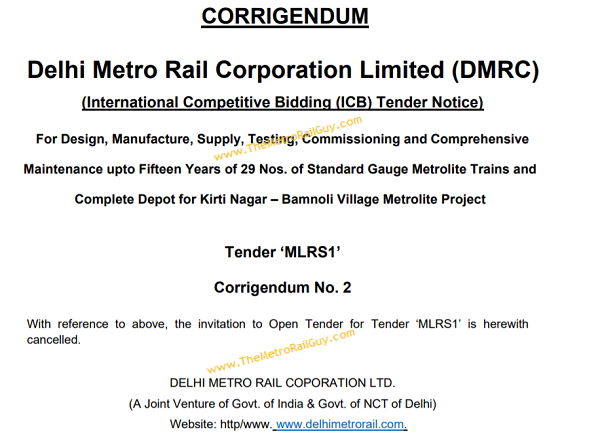 Scope: Design, manufacture, supply, testing, commissioning and comprehensive maintenance upto fifteen years of 29 nos. of standard gauge metrolite trains and complete depot for Kirti Nagar – Bamnoli Village Metrolite project.
The Detailed Project Report (DPR) of this metrolite line is currently awaiting the Delhi government's approval, so perhaps that had a role to play as financing hasn't been tied up. Topographical work and geotechnical investigation for it had just commenced in mid-September.
The line will consist of 21 mostly at-grade stations at Kirti Nagar (elevated), Saraswati Garden, Mayapuri Bus Depot, Mayapuri, Hari Nagar, Mayapuri Industrial Area (MIA), Mayapuri Industrial Area 2 (MIA 2), Tihar Jail, Shivpuri (elevated), Dabri Village (elevated), Sitapuri (elavated), Mahavir Enclave (elevated), Dwarka Sector 2, Dwarka Sector 7, Dwarka Sector 6, Dwarka Court, Dwarka Sector 20, Dwarka Sector 23, Dhul Siras – Dwarka Sector 24, Dwarka Sector 25 – ECC Centre and Bamnoli Village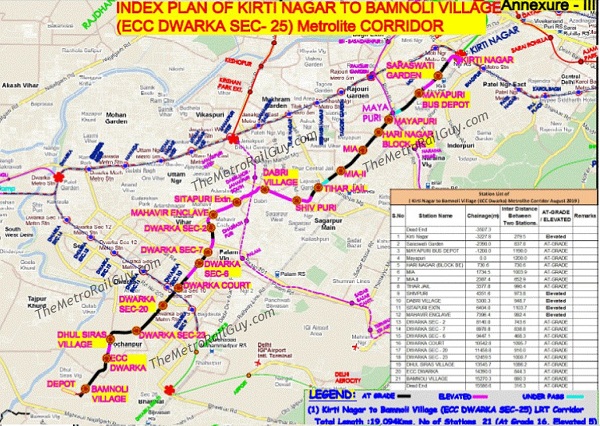 In other news, the National Capital Region Transport Corporation (NCRTC) has cancelled Package 18 of the 82.15 km Delhi Meerut RRTS line which involved the procurement of a rail grinding machine – similar to this seen in Bengaluru. Again, no official reason has been provided. Its bid submission deadline was coming on November 17.
For more updates, check out the Delhi Metrolite section of The Metro Rail Guy!
– TMRG