Rail Vikas Nigam Ltd. (RVNL) has invited bids for commissioning an Automated Fare Collection (AFC) system at 32 stations of Kolkata Metro's under construction 10.246 km Line-3 (Joka – Mominpur) and 32 km Line-6 (New Garia / Kavi Subhash – Biman Bandar).
The new AFC system will have to be integrated with the existing AFC system of Line-1 (Noapara – New Garia) and Line-2 (Sector V – Phoolbagan). Per the tender documents, RVNL will give preference to local suppliers under the Make in India, or Atmanirbhar Bharat, initiative. Here's an excerpt:
Purchase Preference to Make in India

The provisions of revised 'Public Procurement (Preference to Make in India) Order 2017' issued by Department of Industrial Policy and Promotion under Ministry of Commerce and Industry vide letter no. P-45021/2/2017-PP (BE-II) dated 28.05.2018 shall be applicable to the bidding process and award of the contract shall be done accordingly.

In this connection, the minimum local content shall be 50% and the margin of purchase preference shall be 20%. For award of contract, para 3.c. of the revised 'Public Procurement (Preference to Make in India) Order 2017' shall be applicable in addition to the other provisions in the bidding documents in this regard.
Package: RVNL/S&T/KOL/S01
Estimate: Rs. 156.62 crore
Period of Work: 36 months
Pre-Bid Meeting: 04/01/2021 at 11.30 hrs
Bid Submission End Date: 02/02/2021 at 11 AM
Technical Bid Opening Date: 02/02/2021 at 11:30 AM
Scope: Design, Supply, Installation, Testing, Commissioning and Facilitation of Integration with existing system for Automatic Fare Collection System between Kavi Subhash – Biman Bandar Metro Station (24 Stations) & Joka – Mominpur Metro Station (8 Stations) of Kolkata Metro Railway in West Bengal State, India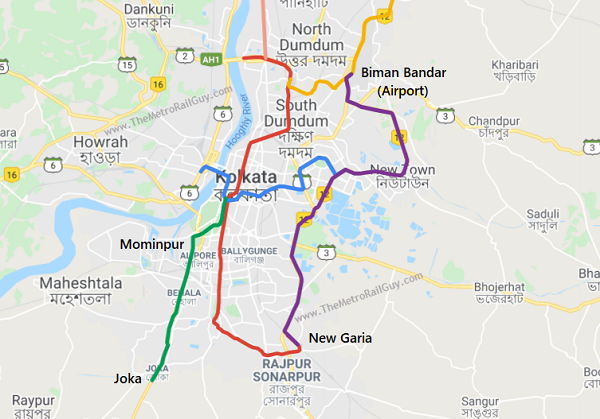 If I'm not mistaken, this is the second major systems-related package for both lines' development. Prior to this, Jakson Group was awarded a Rs 68.84 crore contract in August for Electrical & Mechanical (E&M) works at Kolkata Metro Line-6's Barun Sengupta, Beliaghata, Gour Kishore Ghosh, Nicco Park, Salt Lake Sector V, Technopolis and Biddhannagar stations, and Line-3's Behala Bazar, Taratala, Majerhat, and Mominpur Stations.
For more updates, check out the Kolkata section of The Metro Rail Guy!
– TMRG