Officials from Rail Vikas Nigam Ltd. (RVNL) today opened technical bids to appoint a General Consultant for the 6 km mostly underground Majerhat – Esplanade section of Kolkata Metro's Line-3 to reveal that eight design engineering and project management firms had bid for the contract.
This northern section of the 15.215 km Line-3 (Joka – Esplanade) consists of a roughly 2 km under construction elevated section from Majerhat to Kidderpore. The rest of the line will be underground, with twin tunnels running through 4 stations at Kidderpore, Victoria, Park Street and Esplanade.
RVNL invited bids for this service, which also includes Project Management Consultancy (PMC) works, in December 2019 with an objective to assist them in the preparation and speedy implementation of this long-delayed line. The completion period for it is listed at 1890 days (5.2 years), which is how long RVNL estimates the project will take to get completed.
Bidders:
AECOM India Pvt. Ltd.
Ayesa Ingeniería y Arquitectura, S.A.U
Egis India Consulting Engineers Pvt Ltd.
Geodata Engineering SpA
ILF Consulting Engineers
Metropolitan Milanese
Technica Y Projectos, S.A. (TYPSA)
Yuksel Proje Uluslararasi A.S
Contract: RVNL/KOL/UGMetro/MJT-ESP/GC cumPMC
Brief Scope: General Consultancy cum Project Management Consultancy works for Construction of Elevated and Underground Metro Railway Works from Majerhat (Ex.) to Esplanade, Approx. 6 Km in connection with Joka-BBD Bag Metro Corridor in the state of West Bengal, India.
The role of the GC typically includes assistance with design, supervision, safety, quality control and contract management. AECOM and Egis are no strangers to Kolkata, and are currently providing GC services to the partly operational 16.34 km Line-2 as part of the AECOM-Maunsell (UK), Egis (France), YEC (Japan), CES (India), and Lee Harris Pomeroy Architects consortium.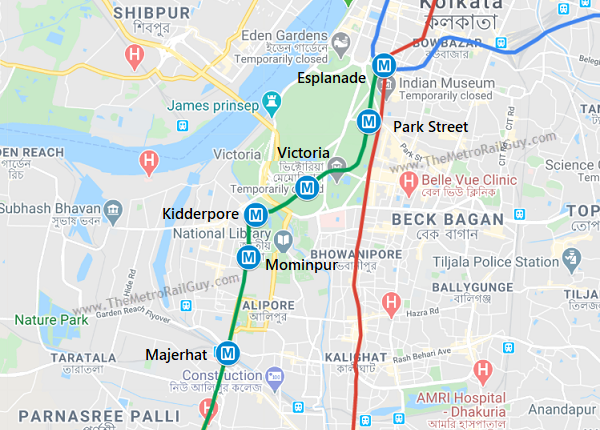 Things on this line have been moving along nicely over the past few months. Back in April, RVNL invited bids for Joka Depot's construction, and in June invited bids for completing pending work on the 1.3 km elevated stretch between Majerhat – Mominpur.
Bids for constructing the underground section from Kidderpore to Esplanade with 4 stations are expected to be invited only after the GC is selected. When the line goes live later this decade, Esplanade Station will go on to become the city's first 3-line interchange station with connectivity to the network's operational 28.14 km Line-1 (Kavi Subhash – Noapara) and under construction 16.34 km Line-2 (Howrah Maidan – Sector V).
For more updates, check out the Kolkata section of The Metro Rail Guy!
– TMRG