Moments ago, India's Prime Minister flagged off driverless train operations (DTO) via video conferencing on Delhi Metro's 38.235 km Magenta Line which connects Janakpuri West and Botanical Garden through 35 stations.
This is a step up from the existing semi-automatic train operations (Automatic Train Protection + Automatic Train Operations), but is still one step away from the Unattended Train Operation (UTO) mode, the final stage of fully-automated driverless operations.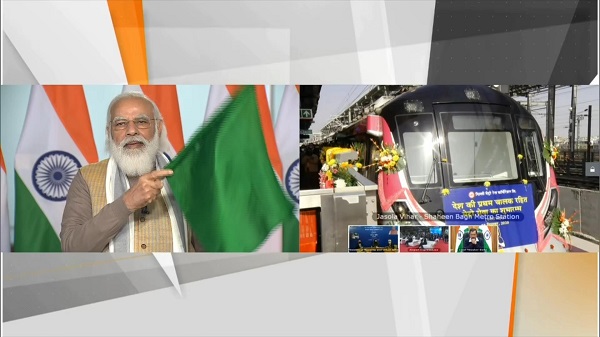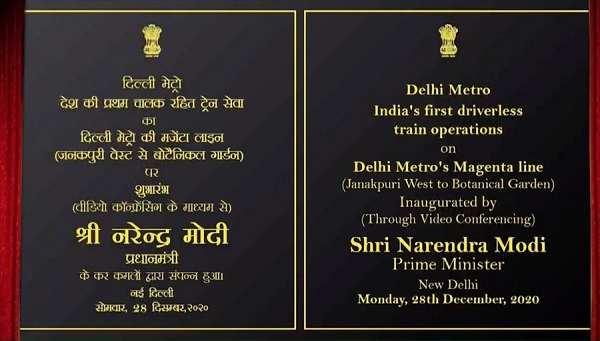 Delhi's Magenta Line (Line-8) was built in the 162 km Delhi Metro Phase 3 project and opened for commercial operations with Hyundai Rotem-BEML train-sets and Nippon Signal's SPARCS communications-based train control (CBTC) solution in 2 stages: Botanical Garden – Kalkaji Mandir in December 2017 and Janakpuri West – Kalkaji Mandir in May 2018.
The line's trains are designed to support UTO with a grade of automation (GoA) level 4, but the Delhi Metro Rail Corporation (DMRC) had until now been operating them semi-automatically at GoA 2, like all other lines on the 347 km network. This involves a train operator performing crucial activities such as monitoring trackside conditions and triggering door closure and train departure.
Back in March, the DMRC awarded SYSTRA with a Rs. 7.78 crore contract to provide guidance and input in framing various procedures in order to move to fully automated driverless operations, with an aim to eliminate any possibility of human error. In its tender notice, it mentioned the operator was originally targeting to move to GoA3 by May 2020 and eventually GoA 4 with true "driverless" operations.
So until DMRC switches to UTO, trains will continue to have roving attendants (operators) on board to intervene in case of emergencies or other types of failures.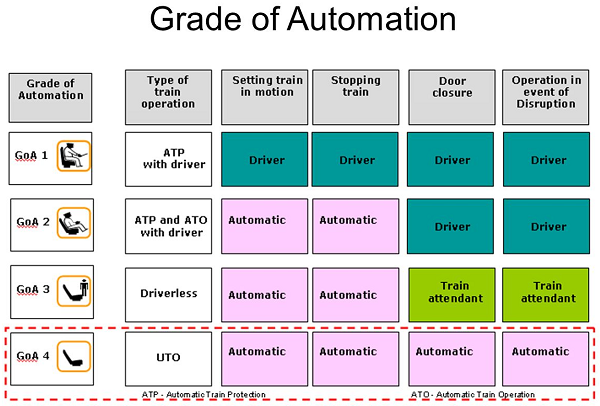 Despite being such a hot topic, the DMRC has not revealed when exactly they started trial runs (testing) for DTO and what their future game plan is for going fully automatic (GoA 4). During today's event, they did however reveal their plan to move to DTO on the Pink Line by June 2021.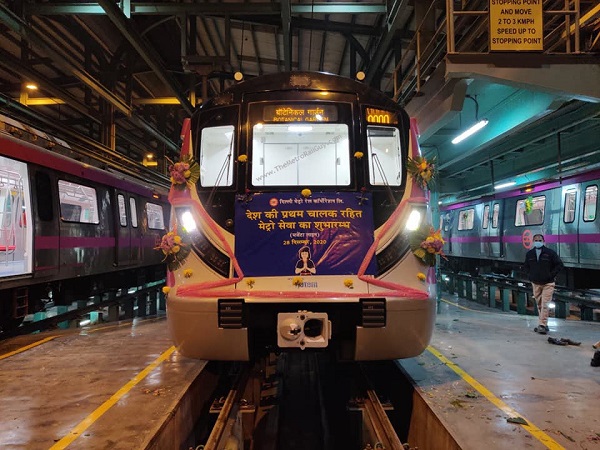 Besides DTO, the Prime Minister also inaugurated the ability for riders to use the National Common Mobility Card (NCMC) services on the 22.70 km Airport Express Line. This inter-operable transport card allows riders to pay for metro & bus travel, toll charges, retail shopping etc. It is being targeted to become available for use on the entire Delhi Metro network by 2022.
For more updates, check out the Delhi section of The Metro Rail Guy!
– TMRG