Three firms on Tuesday submitted bids to provide project management consultancy (PMC) services for civil construction of the 508.17 km Mumbai – Ahmedabad High Speed Rail (MAHSR Bullet Train) project which'll connect both cities through 12 stations at an estimated cost of Rs. 1.1 lakh crore (US $15 billion).
India's National High Speed Rail Corporation (NHSRCL) in December 2016 had appointed a General Consultant (GC) team comprising of Japan International Consultants for Transportation – Nippon Koei – Oriental Consultants Global, but is now looking to appoint a dedicated PMC to manage construction work, a bulk of which has been awarded to Larsen & Toubro (L&T).
NHSRCL had invited tenders (bids) for the PMC service's contract on November 11 and plans to select a consultant based on the Quality and Cost Based Selection (QCBS) method.
Lead Bidders:
Engineers India Ltd.
Nippon Koei Co. Ltd.
TATA Consulting Engineers Ltd.
Package: NHSRCL/CO/CA/MA-SVGC/2020/34
Brief Scope: Project Management Consultancy Services for Construction of Civil Works Packages of Mumbai Ahmedabad HSR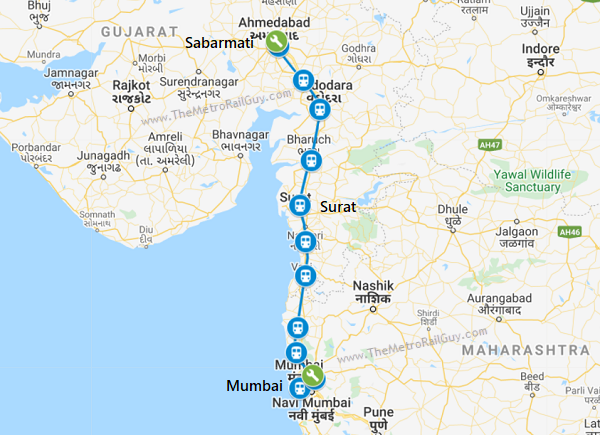 The bids have now been sent for technical evaluation which can take a couple months to complete. When that is done, the financial bids of the technically qualified bidders will be opened to reveal who's the lowest bidder. A PMC will then be selected based on the combined score.
For more updates, check out the High Speed Rail section of The Metro Rail Guy!
– TMRG