India's National High Speed Rail Corporation (NHSRCL) and Larsen & Toubro today signed a formal contract valued at Rs 7,289.00 crore to build the 87.569 km Package C6 of the 508.17 km Mumbai – Ahmedabad High Speed Rail (MAHSR Bullet Train) that aims to connect both cities through 12 stations at an estimated cost of Rs. 1.1 lakh crore (US$15 billion).
Package C6 from chainage 401.898 to 489.467 is the third longest package of the entire line, and connects Vadodara with Ahmedabad through one station and a minor depot at Anand-Nadiad.
It's also the second package to be awarded to Larsen & Toubro after the 237.1 km Package C4 for which a formal contract was signed in November.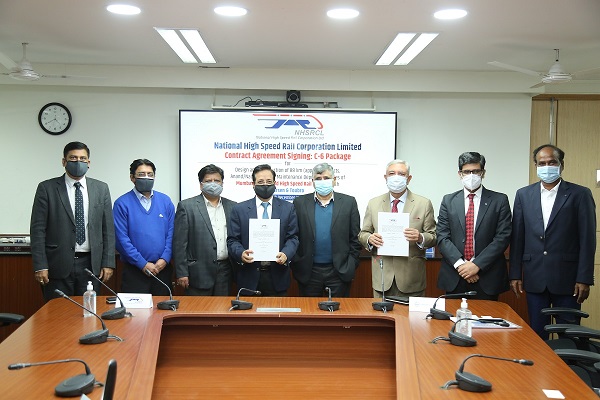 NHSRCL had invited tenders (bids) for its construction, financed by Japan International Cooperation Agency (JICA), on August 1, 2019 with a 1,370 days (3.75 years) period of completion. Technical bids were opened in September to reveal 3 bidders and financial bids were opened in October to reveal Larsen & Toubro as its lowest bidder.
IFB Number: Package No. MAHSR-C-6
Brief Scope: Design and Construction of Civil and Building Works including Testing and Commissioning on Design Build Lump Sum Price Basis for Double Line High Speed Railway involving Viaduct & Bridges, Crossing Bridges, Maintenance Depot and Station (Anand/Nadiad), between Vadodara (MAHSR Km. 401.898) and Ahmedabad (MAHSR Km. 489.467), excluding Works for 01 No. PSC Bridge and 04 No. Steel Truss Bridges, in the State of Gujarat for the Project for Construction of Mumbai-Ahmedabad High Speed Rail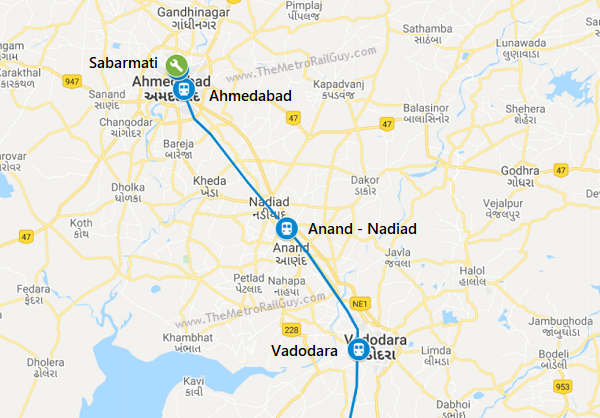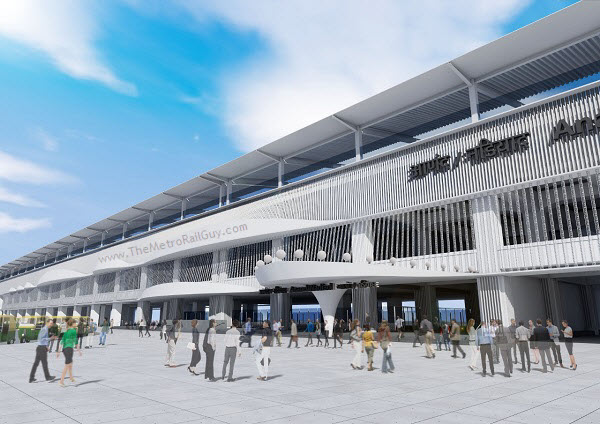 With today's development, NHSRCL has awarded civil contracts for the construction of 92% of the bullet train's alignment in Gujarat (325 km out of 352 km). This includes five stations at Vapi, Billimora, Surat, Bharuch, Anand/Nadiad, one train maintenance depot at Surat and one 350 m tunnel.
Here's the status of each main-line civil package. The bid submission deadline for C1 was recently moved from December 21 to February 19.
| | |
| --- | --- |
| Package & Scope | Status |
| C1: 1.028 km Underground Station at BKC, Mumbai | Bids Invited in November 2019; Current Submission Deadline: February 19, 2021 |
| C2: 20.377 km underground tunnel between BKC Station to Shilphata, Thane (3 Mega TBMs to be used) | Bid Submission Deadline Passed – No Bids Received |
| C3: 135.450 km elevated line between Shilphata, Thane and Zaroli Village (MH/GJ Border) | Tender Notice Pending |
| C4: 237.1 km elevated line between Zaroli Village (MH/GJ Border) and Vadodara | Awarded to L&T |
| C5: 8.198 km elevated viaduct and station within Vadodara | Tender Notice Pending |
| C6: 87.569 km elevated viaduct between Vadodara and Ahmedabad | Awarded to L&T (this post!) |
| C7: 18.133 km elevated viaduct and station within Ahmedabad | Bids Invited October 8 |
| C8: 2.126 km viaduct, building works at Sabarmati Depot | Bids Invited October 23 |
For more updates, check out the High Speed Rail section of The Metro Rail Guy!
– TMRG