In a BSE filing, Larsen & Toubro on Wednesday announced it has been awarded a contract to build the 237.1 km Package C4 of the 508.17 km Mumbai – Ahmedabad High Speed Rail (MAHSR Bullet Train) that aims to connect both cities through 12 stations at an estimated cost of Rs. 1.1 lakh crore (US$15 billion).
Package C4 – the first package to be awarded so far for the main-line – represents 46.66% of the main-line making it the longest amongst all, and runs elevated from Zaroli Village on the Maharashtra – Gujarat border to Vadodara Station through 4 stations at Vapi, Bilimora, Surat and Bharuch in Gujarat.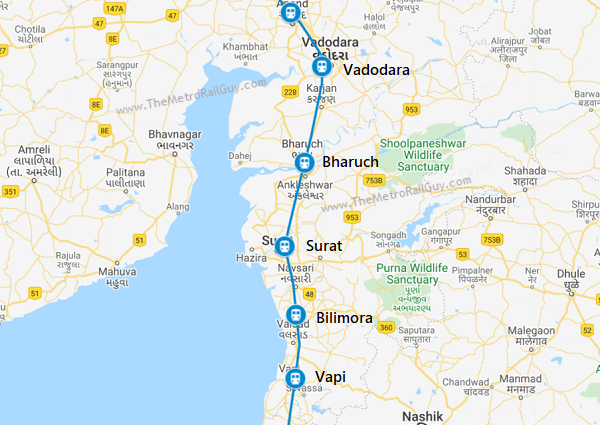 India's National High Speed Rail Corporation (NHSRCL) had opened financial bids from 3 firms / consortia on October 23 in which Larsen & Toubro emerged as the lowest bidder.
Although L&T's bid was the lowest, it was still approximately Rs 4,985.164 (24.925%) higher than NHSRCL's estimate of Rs. 20,000. Oddly enough, the final contract value has not been mentioned in the L&T's press release so it remains to be seen if the contract was awarded as-is (in the interest of time) or negotiated down.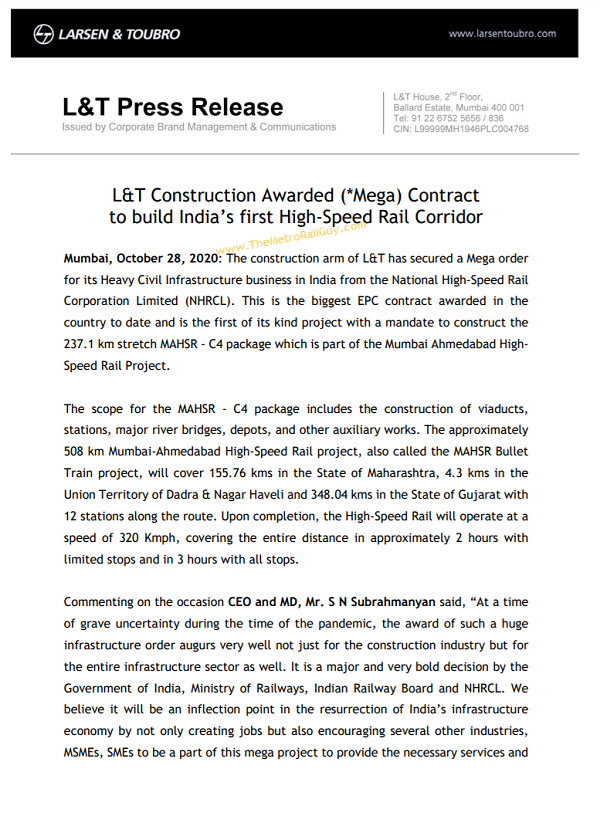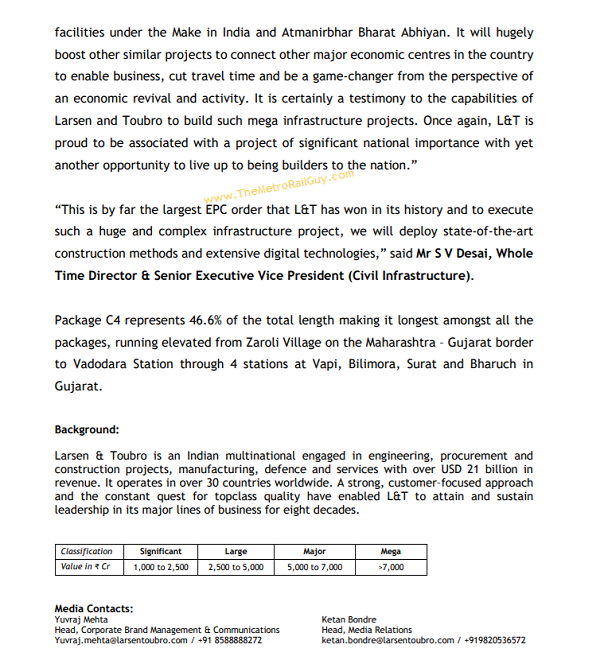 With this development, a symbolic groundbreaking ceremony for India's first high speed rail project can be expected to take place by year-end.
All eyes are now on Package C6 (Vadodara – Ahmedabad) for which technical bid evaluation is expected to be wrapped up in the coming weeks. Here's a status of each civil package of the main-line – this table is best viewed on a desktop device.
| | |
| --- | --- |
| Package & Scope | Status |
| C1: 1.028 km Underground Station at BKC, Mumbai | Bids Invited in November 2019; Current Submission Deadline: December 21, 2020 |
| C2: 20.377 km underground tunnel between BKC Station to Shilphata, Thane (3 Mega TBMs to be used) | Bid Submission Deadline Passed – No Bids Received |
| C3: 135.450 km elevated line between Shilphata, Thane and Zaroli Village (MH/GJ Border) | Tender Notice Pending |
| C4: 237.1 km elevated line between Zaroli Village (MH/GJ Border) and Vadodara | Awarded to L&T (this post!) |
| C5: 8.198 km elevated viaduct and station within Vadodara | Tender Notice Pending |
| C6: 87.569 km elevated viaduct between Vadodara and Ahmedabad | Technical Bid Evaluation Underway (3 bids received on September 25) |
| C7: 18.133 km elevated viaduct and station within Ahmedabad | Bids Invited October 8 |
| C8: 2.126 km viaduct, building works at Sabarmati Depot | Bids Invited October 23 |
For more updates, check out the High Speed Rail section of The Metro Rail Guy!
– TMRG
Hat-Tip to Sanket