That was quick! Larsen & Toubro today emerged as the lowest bidder for constructing the 237.1 km Package C4 of the 508.17 km Mumbai – Ahmedabad High Speed Rail (MAHSR Bullet Train) project, after officials from the National High Speed Rail Corporation (NHSRCL) opened financial bids submitted by 3 infrastructure companies / consortia.
Package C4 represents 46.66% of the main-line making it the longest amongst all, and runs elevated from Zaroli Village on the Maharashtra – Gujarat border to Vadodara Station through 4 stations at Vapi, Bilimora, Surat and Bharuch in Gujarat.
NHSRCL invited tenders (bids) for its construction, financed by Japan International Cooperation Agency (JICA), on March 15, 2019 and estimates it to cost approximately Rs 20,000 crore. Technical bids were opened less than a month back on September 23 to reveal 3 bidders making the period of technical bid evaluation unbelievably short, beating even the time taken by many metro organizations as well.
Financial Bid Values:
| | |
| --- | --- |
| Firm | Bid |
| Larsen & Toubro Ltd. (L&T) | Rs 24,985.164 crore |
| Tata Projects Ltd. – J Kumar Infraprojects Ltd. – NCC Ltd. JV | Rs 28,228.392 crore |
| Afcons Infrastructure Ltd. – Ircon International Ltd. – JMC Projects India Ltd. JV | Rs 36,874.706 crore |
IFB Number: Package No. MAHSR-C-4
Scope: Design and Construction of Civil and Building Works including Testing and Commissioning on Design Build Lump Sum Price basis for Double Line High Speed Railway involving Viaducts, Bridges, Maintenance Depots, Tunnel, Stations (Vapi, Bilimora, Surat and Bharuch), and Surat Depot between Zaroli Village at Maharashtra-Gujarat Border and Vadodara from MAHSR Km. 156.600 to MAHSR Km. 393.700, excluding Works for 04 No. PSC Bridges and 07 No. Steel Truss Bridges, in the State of Gujarat.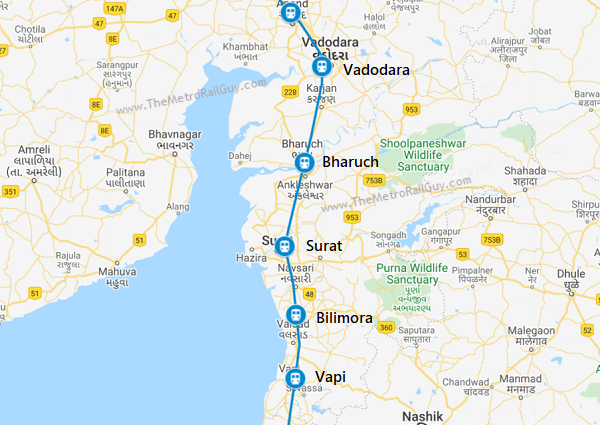 L&T's bid was approximately Rs 4,985.164 (24.925%) higher than NHSRCL's estimate, so it remains to be seen if NHSRCL will (1) award as-is, (2) reduce the scope of work and negotiate to bring the final contract value down, or (3) totally scrap the bidding process and invite tenders again.
If awarded by November-end, a symbolic groundbreaking ceremony can be expected to take place by year-end. Here's a status of each civil package of the bullet train project – this table is best viewed on a desktop device.
| | |
| --- | --- |
| Package & Scope | Status |
| C1: 1.028 km Underground Station at BKC, Mumbai | Bids Invited in November 2019; Current Submission Deadline: December 21, 2020 |
| C2: 20.377 km underground tunnel between BKC Station to Shilphata, Thane (3 Mega TBMs to be used) | Bid Submission Deadline Passed – No Bids Received |
| C3: 135.450 km elevated line between Shilphata, Thane and Zaroli Village (MH/GJ Border) | Tender Notice Pending |
| C4: 237.1 km elevated line between Zaroli Village (MH/GJ Border) and Vadodara | Financial Bids Opened Today |
| C5: 8.198 km elevated viaduct and station within Vadodara | Tender Notice Pending |
| C6: 87.569 km elevated viaduct between Vadodara and Ahmedabad | Technical Bid Evaluation Underway (3 bids received on September 25) |
| C7: 18.133 km elevated viaduct and station within Ahmedabad | Bids Invited October 8 |
| C8: 2.126 km viaduct, building works at Sabarmati Depot | Tender Notice Pending |
The fabrication and installation of PSC bridges and steel truss bridges over roads, highways, railway lines and canals within these civil packages' routes are part of 6 separate packages – see all contracts here.
For more updates, check out the High Speed Rail section of The Metro Rail Guy!
– TMRG