India's National High Speed Rail Corporation Ltd. (NHSRCL) on Thursday invited bids to construct the 2.127 km Package C-8 for preparatory works at Sabarmati Depot on the 508.17 km Mumbai – Ahmedabad High Speed Rail (MAHSR Bullet Train) project which'll connect both cities through 12 stations at an estimated cost of Rs. 1.1 lakh crore (US$15 billion).
Package C8 of the main-line from chainage 507.599 to 509.726 within Ahmedabad is the shortest of 5 packages within Gujarat state and deals with the Sabarmati train maintenance depot which is the largest among three depots (others to be built at Surat and Thane) planned on this line for the inspection, maintenance and stabling of trainsets.
The depot will cover approximately 84 hectares and a notice inviting bids for constructing its workshop shed, inspection shed, office building, Operations & Control Centre (OCC), machinery & plants under Package D2 is currently pending.
The estimate for C8 is unknown at this time and I'll update this section whenever I become aware.
IFB Number: Package No. MAHSR-C-8
Brief Scope: Design and Construction of Civil and Building Works for the Depot on Design Build Lump Sum Price Basis for Double Line High Speed Railway involving works for Site Formation, Abutment, Retaining Walls, Roadbed for track, Box Culvert, Roads, Cable Duct, Foundations of OHE Masts, Piping, Drainage, Water Harvesting, Fire Fighting, Landscaping, Boundary Wall, General Inspection Train Shed, Maintenance Depot and other Associated works At Sabarmati between MAHSR Km. 507.599 and MAHSR Km. 509.726 in the State of Gujarat for the Project for Construction of Mumbai-Ahmedabad High Speed Rail
Completion Period: 1461 days (4 years)
Pre-bid Meeting: 23-Nov-2020 11:00 AM
Date & Time of Submission of Tender: 18-Feb-2021 at 03:00 PM
Date & Time of Opening of Tender: 19-Feb-2021 at 03:30 PM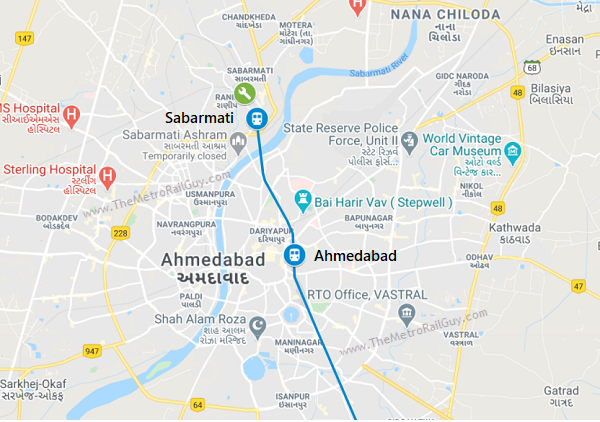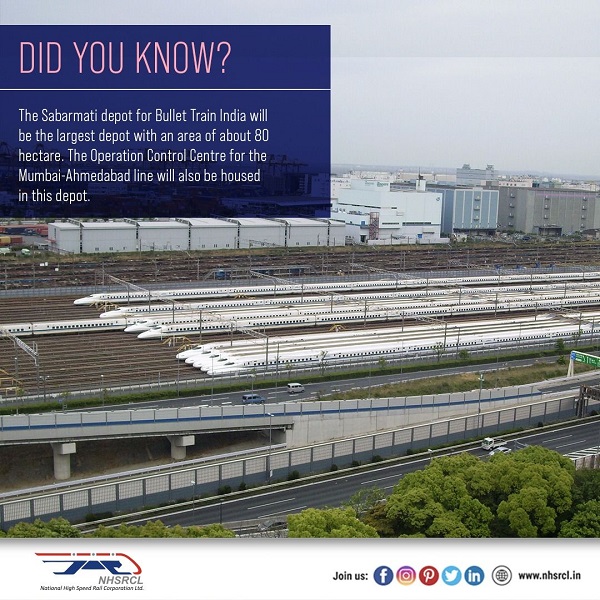 With this development, within Gujarat – now only Package C5's tender notice for the main-line's construction within Vadodara is pending.
Here's a status of each civil package of the bullet train project – this table is best viewed on a desktop device.
| | |
| --- | --- |
| Package & Scope | Status |
| C1: 1.028 km Underground Station at BKC, Mumbai | Bids Invited in November 2019; Current Submission Deadline: December 21, 2020 |
| C2: 20.377 km underground tunnel between BKC Station to Shilphata, Thane (3 Mega TBMs to be used) | Bid Submission Deadline Passed – No Bids Received |
| C3: 135.450 km elevated line between Shilphata, Thane and Zaroli Village (MH/GJ Border) | Tender Notice Pending |
| C4: 237.1 km elevated line between Zaroli Village (MH/GJ Border) and Vadodara | L&T is Lowest Bidder |
| C5: 8.198 km elevated viaduct and station within Vadodara | Tender Notice Pending |
| C6: 87.569 km elevated viaduct between Vadodara and Ahmedabad | Technical Bid Evaluation Underway (3 bids received on September 25) |
| C7: 18.133 km elevated viaduct and station within Ahmedabad | Bids Invited October 8 |
| C8: 2.126 km viaduct, building works at Sabarmati Depot | Bids Invited – this post! |
The fabrication and installation of PSC bridges and steel truss bridges over roads, highways, railway lines and canals within these civil packages' routes are part of 6 separate packages – see all contracts here.
For more updates, check out the High Speed Rail section of The Metro Rail Guy!
– TMRG