India's National High Speed Rail Corporation (NHSRCL) and Larsen & Toubro on Thursday signed a formal contract valued at Rs 24,985 crore to build the 237.1 km Package C4 of the 508.17 km Mumbai – Ahmedabad High Speed Rail (MAHSR Bullet Train) that aims to connect both cities through 12 stations at an estimated cost of Rs. 1.1 lakh crore (US$15 billion).
Satoshi Suzuki, the Ambassador of Japan to India also attended the event. A Facebook Live recording of it can be viewed here and I'd recommend skipping to the 43:00 mark as that's when the actual event starts.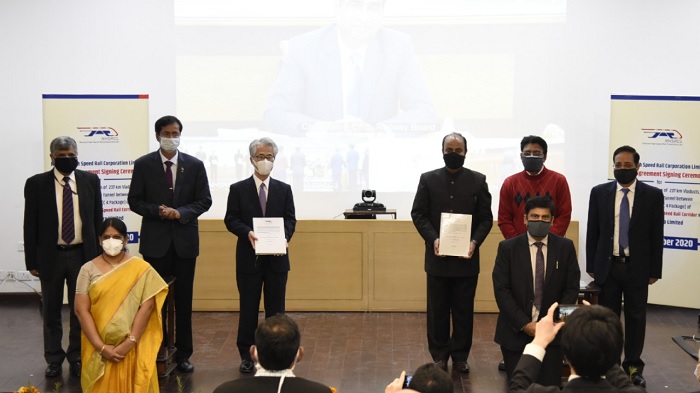 Package C4 – the first of two packages awarded so far in October for the main-line's 8 packages – represents 46.66% of the line making it the longest amongst all. It runs elevated from Zaroli Village on the Maharashtra – Gujarat border to Vadodara Station through 4 stations at Vapi, Bilimora, Surat and Bharuch in Gujarat.
It also includes construction of the Surat Depot, 14 river crossings, 42 road crossings, 6 railway crossings and one 350 meter tunnel through a hill – the location of which is unknown to me.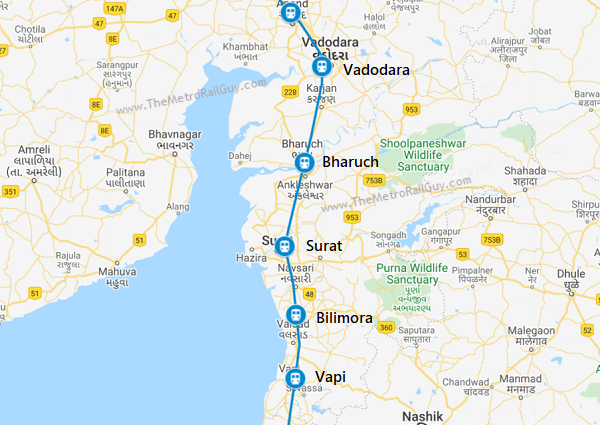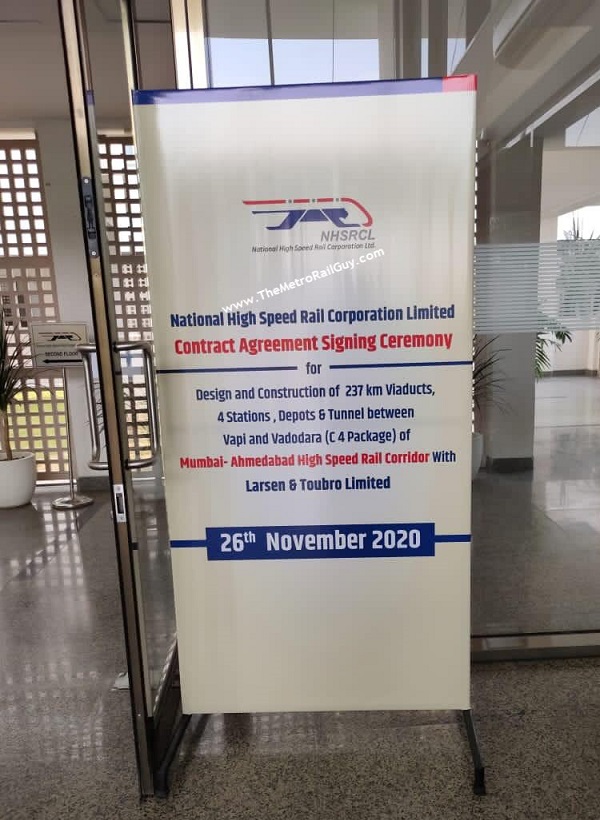 India's National High Speed Rail Corporation (NHSRCL) had opened technical bids to reveal 3 bidders on September 23, completed technical bid evaluation within a month, and then opened financial bids on October 19 in which Larsen & Toubro emerged as the lowest bidder, placing a bid of Rs. 24,985 crore. The completion period for Package C4 is four years from the date of commencement stated in the contract.
With land acquisition still a major hurdle in Maharashtra, NHSRCL is pressing ahead with getting at least the Gujarat portion of the line operational, which spans roughly 354 km across 5 packages. Earlier this week, they invited bids for Packages P1B and P1C which involves constructing 5 prestressed concrete (PSC) and 11 steel truss bridges within Gujarat.
A list of this project's tenders (pre-construction and civil packages) and their status' can be viewed here.
I'm expecting a symbolic groundbreaking ceremony to take place before the year ends, basic enabling / groundwork in Q1 2021, and full fledged construction work commencing in Q2 2021.
For more updates, check out the High Speed Rail section of The Metro Rail Guy!
– TMRG