ISGEC Heavy Engineering Ltd. has started construction work on Joka Depot of Kolkata Metro's 15.215 km Line-3 which will connect Joka and Esplanade through 14 stations.
Joka Depot is being built on a 24.5 hectare land parcel and will consist of 12 stabling lines with a provision to build an additional 11 lines in the future, 2 inspection bays (2 x 220m x 27m, 8 lines), 2 lifting bays (220m x 20m), 2 workshop bays (220m x 25m), one bogie shop (22m x 17m), a turn-table and a 60m x 8m automatic coach washing plant.
Construction work on Line-3's elevated viaduct started way back in 2011 by Simplex Infrastructures for 2 packages (4.748 km Joka – Behala and 4.762 km Behala – Mominpur), but like other sites across Kolkata, Rail Vikas Nigam Ltd. (RVNL) had faced severe land acquisition hurdles here with local villagers refusing to accept the compensation offered to them.
With that issue mostly sorted out, RVNL in August awarded ISGEC a Rs. 350.89 crore contract with a 24 month deadline after they emerged as the lowest bidder among 7 firms. The depot's architectural drawing supplied in the tender documents back then wasn't that clear, but here it is for whatever it's worth –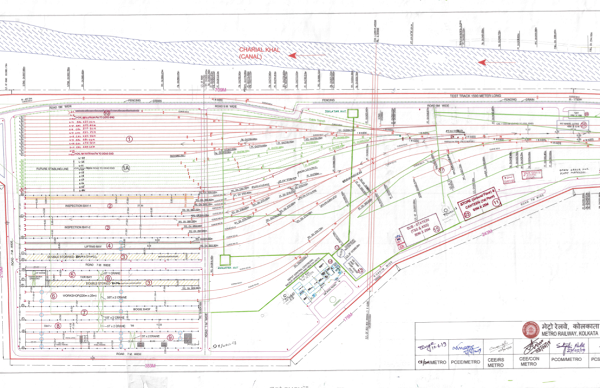 RVNL tweeted out the following images on Tuesday. For reference DMC = Direct Mud Circulation Rigs and TMR = Truck Mounted Rigs.
For the construction of the Metro car depot for the 14.32 km Joka-Esplanade metro corridor #RVNL has deployed 16 DMC rigs, 12 TMR rigs and 2 hydraulic rigs. Work on the project is in full swing. #Project #railway #infrastructure #commitment #citylife #engineering #cityofjoy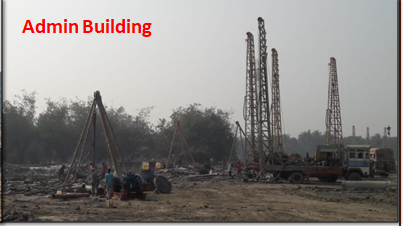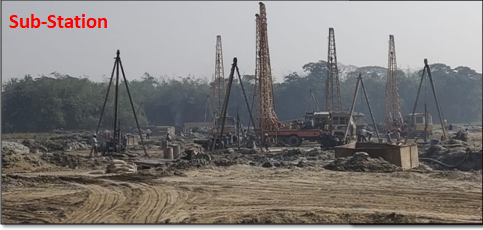 The depot is located at the extreme southern-end of the line – view old satellite imagery here.
The line's viaduct is ready from Joka Station to Taratala Mint (south of Majerhat Station) with 6 stations at Joka, Thakurpukur, Sakherbazar, Behala Chowrasta, Behala Bazar and Taratala. On the systems side of things, pre-engineering building (PEB) roof works have been installed at all stations except Behala Bazaar per follower Rupraj in the comments section, while track laying works and station E&M works are underway.
Work on the most important metro station of this section at Majerhat, which will connect to the local railway station on the Sealdah – Budge Budge line, is in a nascent stage of construction. With civil work on the depot just commencing, I don't see any part of Line-3, with or without Majerhat, opening for operations any sooner than 2023. With the way things work in Kolkata, possibly even 2024.
For more updates, check out the Kolkata section of The Metro Rail Guy!
– TMRG