Rail Vikas Nigam Ltd. (RVNL) on Tuesday awarded ISGEC Heavy Engineering Ltd. with a Rs. 350.89 crore contract to construct Joka Depot of Kolkata Metro's 15.215 km Line-3 which'll connect Joka and Esplanade through 14 stations.
Joka Depot will built be on a 24.5 hectare land parcel and consist of 12 stabling lines with a provision to build an additional 11 lines in the future, 2 inspection bays (2 x 220m x 27m, 8 Nos lines), 2 lifting bays (220m x 20m), 2 workshop bays (220m x 25m), one bogie shop (22m x 17m), a turn-table and a 60m x 8m automatic coach washing plant.
RVNL invited bids for the depot's construction in April with an estimated cost of Rs. 372.56 crore and opened technical bids in July to reveal 7 bidders. Financial (price) bids were opened on August 22 in which ISGEC emerged as the lowest bidder.
| | |
| --- | --- |
| Firm | Bid |
| ISGEC Heavy Engineering Ltd. | Rs. 350.89 crore |
| URC – Taikisha JV | Rs. 352.77 crore |
| Power Mech Projects Ltd. – HYT JV | Rs. 358.48 crore |
| Shapoorji Pallonji and Company Pvt. Ltd. | Rs. 360.58 crore |
| SMS India Pvt Ltd. | Disqualified |
| KEC International Ltd. | Disqualified |
| Engineering Projects (India) Ltd. | Disqualified |
Contract: RVNL/M/KOL/JOKA/1
Completion Period: 24 months
Scope: Construction of PEB sheds, structures, buildings, P-way and utilities, general electrical works and supply, installation and commissioning of machinery and plant for setting up of Metro Car Depot at Joka in connection with Joka-Esplanade Metro Project in Kolkata, West Bengal, India.
The depot's architectural drawing in the tender documents isn't that clear, but here it is for whatever it's worth –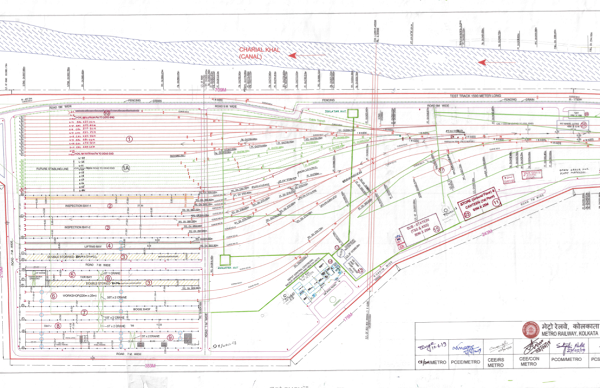 This is ISGEC's second major win in the past 3 months. Back in July, they were awarded a Rs. 150.83 crore contract to build Bangalore Metro's Kothanur Depot for the Phase 2 project's 21.386 km Pink Line (Line-4).
Things on Kolkata Metro's Line-3 have been moving along nicely over the past couple months. Back in July – bids for a General Consultant for the underground section were opened to reveal 8 bidders, while last week GPT Infrastructure was awarded a Rs. 196.30cr contract for the line's elevated portion between Piers 276 and P314, two stations at Majerhat & Mominpur, and a small 225 meter viaduct ramp leading to Joka Depot.
For more updates, check out the Kolkata section of The Metro Rail Guy!
– TMRG
Hat-tip to Rupraj Sengupta