Rail Vikas Nigam Ltd. (RVNL) today opened bids from construction companies to reveal that seven firms had submitted tender (bids) to construct Joka Depot of Kolkata Metro's 15.215 km Line-3 which'll connect Joka and Esplanade through 14 stations.
Joka Depot will built be on a 24.5 hectare land parcel and consist of 12 stabling lines with a provision to build an additional 11 lines in the future, 2 inspection bays (2 x 220m x 27m, 8 Nos lines), 2 lifting bays (220m x 20m), 2 workshop bays (220m x 25m), one bogie shop (22m x 17m), a turn-table and a 60m x 8m automatic coach washing plant.
RVNL invited bids for the depot's construction in April with an estimated cost of Rs. 372.56 crore and expects the appointed contractor to complete all works within 24 months.
Bidders:
Engineering Projects (India) Ltd.
ISGEC Heavy Engineering Ltd.
KEC International Ltd.
Power Mech Projects Ltd.
SMS India Pvt Ltd.
Shapoorji Pallonji and Company Pvt. Ltd.
URC – Taikisha JV
The bids have now been sent for technical evaluation which can take a couple months to complete. When that is complete, the financial bids of the technically qualified bidders will be opened to reveal who's the lowest bidder and most likely contractor for building the depot's structures and infrastructure.
Contract: RVNL/M/KOL/JOKA/1
Scope: Construction of PEB sheds, structures, buildings, P-way and utilities, general electrical works and supply, installation and commissioning of machinery and plant for setting up of Metro Car Depot at Joka in connection with Joka-Esplanade Metro Project in Kolkata, West Bengal, India.
The depot's architectural drawing in the tender documents isn't that clear, but here it is for whatever it's worth –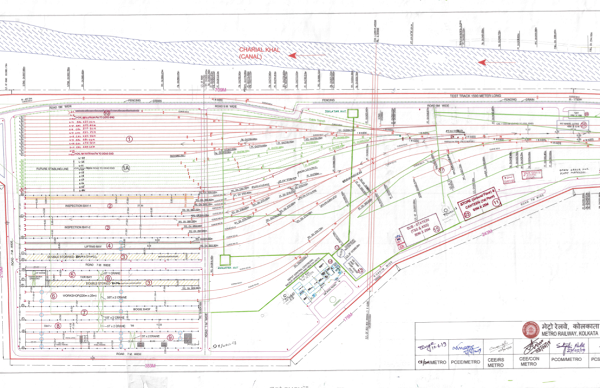 As highlighted yesterday – when bids for the line's General Consultant were opened to reveal 8 bidders – things on this line have been moving along nicely over the past few months.
Back in June, RVNL invited bids for completing pending work on the 1.3 km elevated stretch between Majerhat – Mominpur. The last date for submission was July 27, so if you're aware of its bidders, please send me a message or drop a comment below. Bidding is also currently underway for its Project Management Consultant (PMC), which includes Joka Depot in its scope. The last date to submit bids for it is August 17.
For more updates, check out the Kolkata section of The Metro Rail Guy!
– TMRG