GPT Infraprojects on Monday announced it had won a Rs. 196.30 crore contract from Rail Vikas Nigam Ltd. (RVNL) for the civil construction of Kolkata Metro Line-3 between Piers 276 and P314, two stations at Majerhat & Mominpur, and a small 225 meter viaduct ramp to Joka Depot.
The elevated viaduct between Majerhat & Mominpur stations is 1.326 km long and includes a 50m steel girder span between piers P288-P289.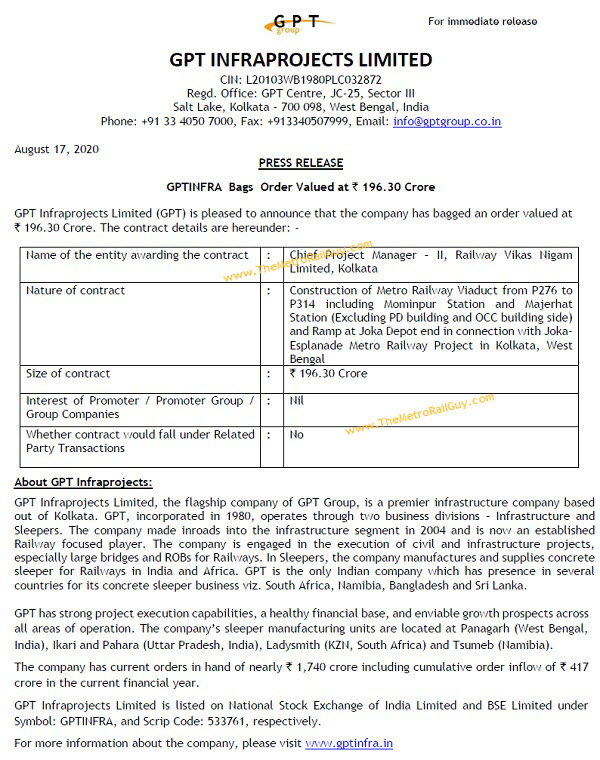 Construction on Kolkata's 16.5 km Line-3's elevated part has been underway since 2011 by Simplex Infrastructures for 2 packages (4.748 km Joka – Behala and 4.762 km Behala – Mominpur), but work couldn't earlier begin on Majerhat and Mominpur stations due to severe land acquisitions issues and pending approvals from the Indian Railways.
The construction of Majerhat Station, along with 2 others at Taratala and Behala Bazar, was originally awarded to Gammon India in April 2012 under Package JMS-2. However, after the collapse of an adjacent 1960's era Railway Overbridge (ROB) in September 2018, Gammon abandoned a part of the Majerhat site due to design issues which led to re-tendering for its balance works in mid-June 2020.
Technical bids were opened on July 29 to reveal GPT as the sole bidder, financial bids were opened on August 14, and the contract was awarded on August 17 – making this among the quickest civil contracts, beating even Kochi Metro's KAC-04 contract, to be awarded for metro construction in India.
Contract / IFB No: RVNL/Kol/Majerhat-Mominpur/Metro Work
RVNL's Estimate: Rs. 190.64 crore
Contract Value: Rs. 196.30
Scope: Construction of Metro Railway Viaduct from P276 to P314 including Mominpur Station and Majerhat Station (Excluding PD Building and OCC Building side) and Ramp at Joka depot end in connection with Joka-Esplanade Metro Railway Project in Kolkata, West Bengal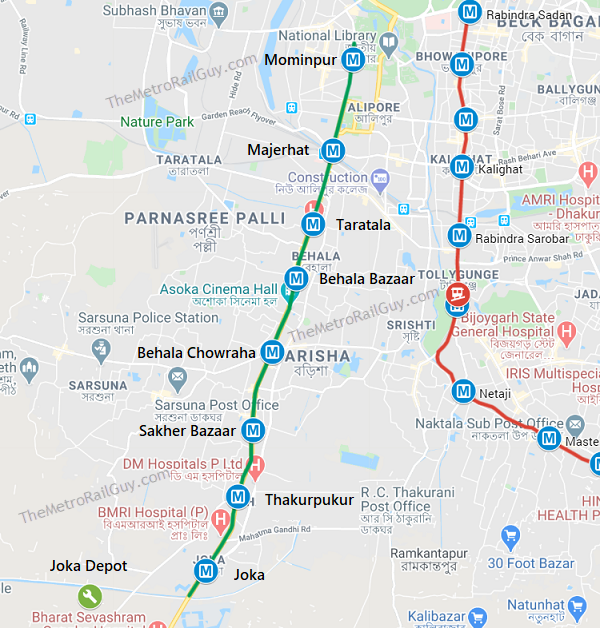 Station specs from the tender document published in June –
Mominpur Station
Length: 180m
Number of Spans: 10
Concourse Area: 980 sqm
Track Slab: 1880 sqm
Platform Area: 3100 sqm
Escalator: 5
Lifts: 2
Staircases: 4
Majerhat Station
Length: 180m
Number of Spans: 12
Concourse Area: 3100 sqm
Track Slab: 1880 sqm
Platform Area: 3050 sqm
Escalator: 5
Lifts: 2
Staircases: 5
Here are some images of Majerhat Station's operations control centre (OCC) tower, which'll support the concourse & platform levels, shared in July:
For more updates, check out the Kolkata section of The Metro Rail Guy!
– TMRG
Hat-tip to Rupraj Sengupta