Barring Shanghai Tunnel Engineering Co. Ltd. (STEC), all other construction firms / consortia that submitted bids in September have qualified through the technical bid evaluation stage to construct the first package of the 32.385 km Kanpur Metro Phase 1 project's 8.621 km underground section.
Excluding the ramp, this package (KNPCC-05) of the 23.785 km Line-1 connecting IIT Kanpur – Naubasta has a length of 3619 meters and includes four stations at Chunniganj, Naveen Market, Bada Chauraha and Nayaganj – each 215 meters long.
UPMRC had invited tenders for this package on July 6, 2020 with an estimate of Rs 1400 crore and expects the assigned contractor to complete work in 36 months. Technical bids were opened in September to reveal 7 bidders.
Qualified Bidders (6):
Afcons Infrastructure
Doğuş Construction
JMC – CAI JV
Larsen & Toubro (L&T)
Sam India – Gulermak JV
Tata Projects Ltd. (TPL)
Disqualified Bidders (1):
Shanghai Tunnel Engineering Co. Ltd. (STEC)
Tender No: UPMRC/CE-Contract/KNPRCC-05/2020
Package: KNPCC-05
Scope: Design and Construction of Tunnel from start of elevated ramp (after Motijheel Station) to end of Nayaganj station including four underground metro stations (viz. Chunniganj, Naveen Market, Bada Chauraha and Nayaganj) and ramp including Architectureal finishes, E&M, TVS, ECS etc. on Corridor-1 of Kanpur MRTS Project at Kanpur, Uttar Pradesh, India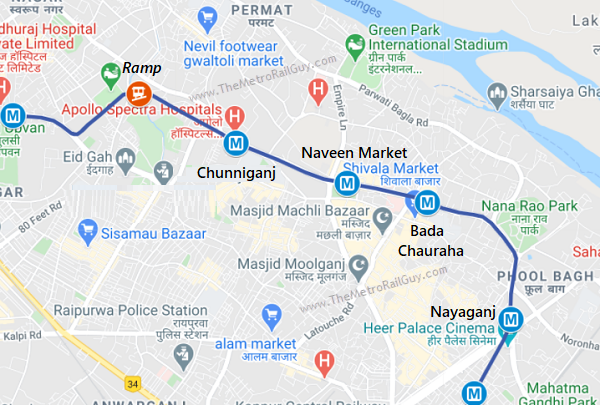 Financial bids of these six firms / consortia are planned to be opened on January 14 (Thursday), so stay tuned to find the winner!
In other bidding news, UPMRC on December 30 cancelled the bidding process for track-work package KNPAGT-4 (1620 MT rails) where Steel Authority of India Ltd. (SAIL) was the only technically qualified bidder. UPMRC will likely retender it shortly.
On January 1, three firms qualified through the technical bidding round to install automatic train washing plants (Package KNAG-07(R1)) for both Kanpur and Agra metros' depots:
Cyclosystem India Pvt. Ltd.
Swastik Overseas
Premier India Agencies
I'll share news about the winner when known. This small but significant contract will likely be the last of 7 contracts for both projects' machinery & plants (M&P). A list of all packages and contracts can be viewed here for Kanpur Metro and here for Agra Metro.
For more updates on India's metro systems, check out my Home Page!
– TMRG