Aarvee Associates – GSL Associates today emerged as the lowest bidder to prepare the final alignment design including an aerial LiDAR survey for the Detailed Project Report (DPR) of the 465 km Delhi – Chandigarh – Amritsar High Speed Rail (DAMHSR bullet train) project in Delhi, Haryana and Punjab.
LiDAR survey is a laser-based surveying technique for rapid and accurate collection of topographic data using helicopters, and similar surveying works commenced in December for the 865 km Delhi – Varanasi High Speed Rail (DVHSR Bullet Train) corridor's alignment.
National High-Speed Rail Corporation Limited (NHSRCL) invited bids for this service on December 4 with a completion period of 150 days and estimated cost of Rs. 10.20 crore. Technical bids were opened in December-end to reveal 3 bidders.
Financial Bid Values:
| | |
| --- | --- |
| Firm | Bid |
| Aarvee Associates Architects Engineers Consultants Pvt. Ltd. – GSL Associates Pvt. Ltd. | 8.88 crore |
| RITES Ltd. (likely in a JV with Geokno India Pvt. Ltd.) | 8.93 crore |
| Monarch Surveyors and Engineering Consultants. Pvt. Ltd. | 8.98 crore |
Package: NHSRCL/CO/CA/LIDAR/2020/44
Brief Scope: Final Alignment design including Aerial LiDAR survey and other related works for DAMHSR. Detailed scope can be viewed here.
Below is an indicative alignment of the line. Stations are planned to come up at Delhi, Asaudha, Rohtak, Jind, Kaithal, Sangrur, Malerkotla, Ludhiana, Jalandhar, Amritsar with a spur line to Chandigarh starting at Sangrur with 3 stations at Patiala, Rajpura and Chandigarh.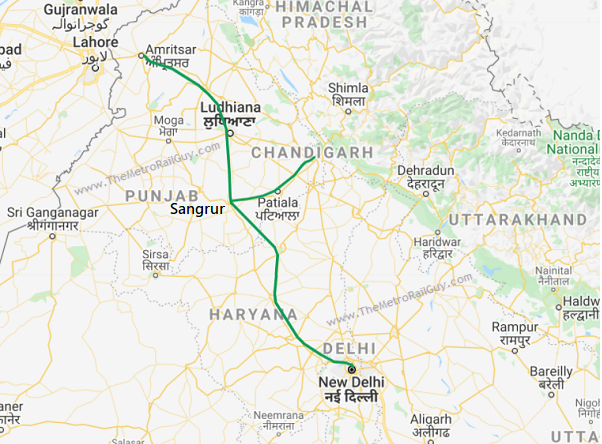 Aarvee-GSL's bid was well below NHSRCL's estimate, so I don't see any issues arising in the financial bid evaluation round. A LoA to them should be issued in the coming weeks making this their second win after winning the 865 km Delhi – Varanasi High-Speed Rail's similar contract in September 2020.
With this development, here's a status of all DPR-related packages for the Delhi – Amritsar HSR line:
| | |
| --- | --- |
| Contract | Contractor |
| Data Collection and Associated Survey Work for DPR | 4 firms submitted bids on December 30 |
| Carrying Out Ridership Study (Traffic Study) | Bidding Underway (Tenders Invited December 2020) |
| Survey, Identification of Overhead, Over Ground, Underground Utilities And Identification Of Power Sourcing Options for Substations | APECO Infrastructure India Pvt. Ltd. is lowest bidder among 13 firms |
| Preparation of GADs (General Alignment Drawings) | Tender Notice Pending |
| Final Alignment Design including Aerial LiDAR Survey | Aarvee-GSL is lowest bidder (this post!) |
| Detailed Social Impact Assessment (SIA) Report and Resettlement Action Plan (RAP) | Bidding Underway |
| Environment Impact Assessment (EIA) Report | 3 bids received on January 8 |
This table is also visible on the information page for this line.
For more updates, check out the High Speed Rail section of The Metro Rail Guy!
– TMRG