With calibration testing completed on Saturday, Aarvee Associates Architects Engineers and Consultants Pvt. Ltd. – GSL Associates Pvt. Ltd JV today started light detection and ranging (LiDAR) survey work to help finalize the alignment of the 865 km Delhi – Varanasi High Speed Rail (DVHSR Bullet Train) corridor in Delhi and Uttar Pradesh.
The LiDAR surveying method involves using laser enabled equipment mounted on a helicopter, and for this Aarvee and their subcontractors will be using a 7-seater 2006 Bell 407 registered as VT-JPH.
In November, they received the Ministry of Defence's approval to operate subject to the compliance of strict conditions. Per my industry sources, only Indian pilots will be allowed and the data obtained from the survey will first have to be vetted and cleared by various national security and intelligence agencies.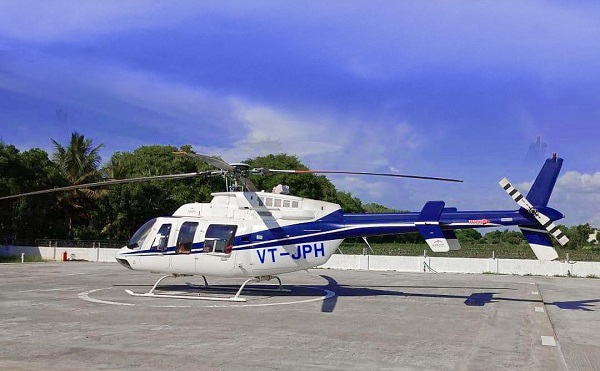 The contract for this survey, to help prepare the line's Detailed Project Report (DPR), was awarded to Aarvee – GSL JV in August with a value of 7.92 crore and completion period of 150 days after they emerged as its lowest bidder among 4 firms.
Here's a a nice news video shared by the National High Speed Rail Corporation Ltd. (NHSRCL). Watch out for my map (22 seconds in) they've used within the report:
This new high speed rail line will connect both cities through 12 stations in Delhi and Uttar Pradesh. Tentative stations on this line provided by NHSRCL in the past include – Delhi, Noida, Jewar, Mathura, Agra, New Etawah, South Kannauj, Lucknow, Raibareli, Prayagraj (Allahabad), New Bhadoi, and Varanasi.
The final alignment and stations (numbers and location) will be decided in consultation with the government.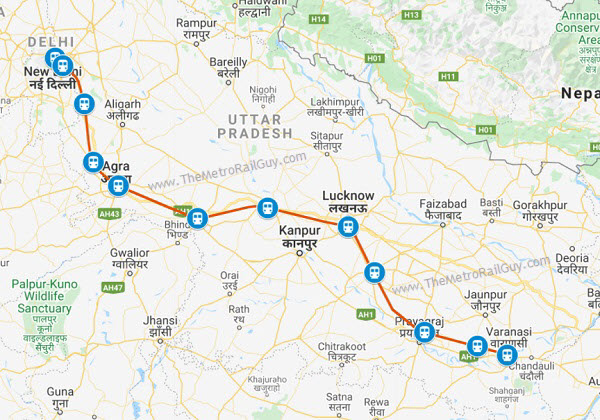 Some tid-bits from NHSRCL's press release last week:
The alignment or ground survey is a crucial activity for any linear infrastructure project as the survey provides accurate details of areas around the alignment.

This technique uses a combination of Laser data, GPS data, flight parameters and actual photographs to give accurate survey data. Based on the findings of the survey, designing of the vertical & horizontal alignment, structures, location of the stations and depots, Land requirement for the corridor, identification of project affected plots/structures, Right of Way etc. are decided.
Similar LiDAR work will be performed by RITES – Geokno JV for the 886 km Delhi – Ahmedabad High-Speed Rail and by SECON Pvt. Ltd. for the 741 km Mumbai – Nasik – Nagpur High-Speed Rail lines in the coming months.
The results from Aarvee's LiDAR survey and other survey / design work will go into preparing the first draft of the Delhi – Varanasi HSR project's DPR.
That first draft can take 6 – 12 months to get ready, its finalization can take a similar time, and after that the DPR will go through the regular motions of getting vetted and placed for approval before the NHSRCL's board, Delhi & Uttar Pradesh state governments' cabinet, and finally the Central Government's cabinet. When that final approval comes through, the project's formal deadline and funding sources will be revealed.
For more updates, check out the High Speed Rail section of The Metro Rail Guy!
– TMRG