Bangalore Metro Rail Corporation Ltd (BMRCL) has finally terminated Simplex Infrastructures' contract for poor performance on the 21.386 km Pink Line's 7.501 km elevated section between Dairy Circle Ramp and Kalena Agrahara, reports The Times of India.
Simplex Infra was awarded the 73.92 km Phase 2 project's Rs. 578.70 crore contract for Reach 6 on Bannerghatta Road in September 2017 with a 27 month deadline. Their scope involved building the line's viaduct, entry line to Kothanur Depot and 5 stations at Kalena Agrahara (formerly Gottigere), Hulimavu, IIM-B, JP Nagar 4th Phase, and Tavarekere (formerly Swagath Road).
BMRCL had as far back as December 2019 sent notices to expedite work, but that failed to get things going and COVID-19's lockdown most likely exacerbated things.
Simplex's poor monthly performance is reflected in the BMRCL's newsletters where the civil progress in December 2019 stood at 22% and advanced to just 35% in December 2020.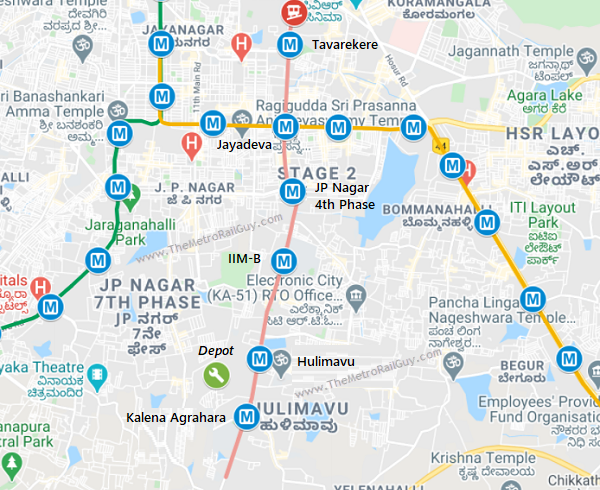 The BMRCL for reasons unknown to me decided to stick on and persist with Simplex despite their poor progress on key performance indicators for at least 18 months. When the company's financial health started heading south, besides followers on the site and on Twitter, other operators around India were quick to notice and terminated their contracts.
For instance – in Mumbai, the Mumbai Metropolitan Region Development Authority (MMRDA) terminated Simplex's contracts for Line-2B and Line-7's work exactly a year ago in January 2020 and re-invited bids for completing the balance work a fortnight later.
From here on, let's see how quickly BMRCL publishes a tender notice for balance work. Anything more than a month would be a ridiculous. This contract termination and new bidding exercise – a necessary step but at the wrong time – now sets back the line's opening by at least 6 months. Tender notices for key systems (rolling stock, signaling, AFC etc.) are also still pending, so I see this section opening no sooner than 2024 at this time.
For more updates, check out my Home Page!
– TMRG
Subscribe to Free Email Notifications